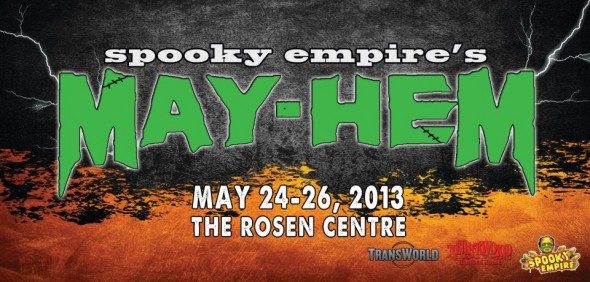 A HALLOWEEN, HORROR AND HAUNT EXTRAVAGANZA…IN MAY!
ORLANDO, FL – For the first time ever, three of the biggest names in the horror and haunt industry, Spooky Empire, alongside TransWorld and Netherworld, are bringing a Halloween and Horror event like never before!
For fans of everything scary and – well, spooky – Orlando, Florida plays host to a pair of the most popular themed events in the nation. Produced by Spooky Empire, October's "Ultimate Horror Weekend" and May's "May-Hem" stand as the Southeast's premier destinations for those whose tastes run to the darker side of entertainment. A fully-loaded weekend of all things horror-centric, the Spooky Empire shows have garnered a strong following of fans and attendees who descend upon the Sunshine State twice a year for a heavy dose of madness and macabre.
Spooky Empire's May-Hem takes place May 24-26, 2013 at Orlando's Rosen Centre. A high-spirited blend of celebrity appearances, live performers, authors, artists, vendors and exhibitors, May-Hem is all that the discriminating fan could wish for.
Well-known for its unique blend of diverse guests and talent, May-Hem once again gives fans plenty of reasons to spend Memorial Day weekend with the Spooky Empire crowd, beginning with a cast reunion of one of the most beloved cult films of modern cinema, 1979's "The Warriors". Fans have an opportunity to meet cast members Michael Back (Swan), Deborah Van Valkenburgh (Mercy), David Harris (Cochise), Terry Michos (Vermin), Bryan Tyler (Snow), Thomas Waites (Fox), and Roger Hill (Cyrus)…can you dig it?
Also at the top of the guest line up is Norman Reedus, known to fans these days as "Daryl Dixon", from the number one rated show, "The Walking Dead". Joining Norman Reedus will be Nick Gomez (Tomas) and Theodus Crane (Big Tiny).
The list of fan favorites doesn't stop there. Also joining this motley crew of celebs is Zach Galligan (Gremlins), Betsy Russell (Saw III, IV, V), Bai Ling (The Crow), Naomi Grossman (American Horror Story)and even a Disney Favorite, Pat Carroll the voice of "Ursula" from "The Little Mermaid".
Plus don't miss out on Spooky Empire's already growing list of events including Q&A's, panels, movies, Tattoo Festival, Zombie Walk, artists, authors, celebrity charity poker tournament, and a huge vendor room filled with all the horror merchandise and memorabilia you could get your hands on!
As if more incentive was needed to attend in 2013, May-Hem is running concurrently with Halloween Extreme. Halloween Extreme (produced by the haunted house gurus behind Netherworld Haunted House & Transworld Trade Shows) grants unprecedented public access to movie and theme park quality props and effects…available for the first time at the consumer level. Featuring demonstrations, seminars, and panel discussions, this event places you – the general public – among industry experts and kindred spirits for a weekend of information and interactive fun. Whether you're a professional attraction owner, an avid home haunter, or an enthusiastic fan of everything the season offers, Halloween Extreme has something for everyone.
At long last, EVERYONE will have the tools at their fingertips to make every Halloween (or any day of the year) the most memorable ever.
Get your advance tickets online now! Just $50 for a 3 day May-Hem pass ($60 at the door). VIP and Daily passes available as well. Don't miss out on either event…advance discounted Spooky Empire / Halloween Extreme combo passes are available now!
Visit spookyempire.com for more information or call the Spooky Empire Hotline at 1-888-690-4695
Contact:
Pete Mongelli
Spooky Empire, Inc.
954-258-7852
http://www.spookyempire.com