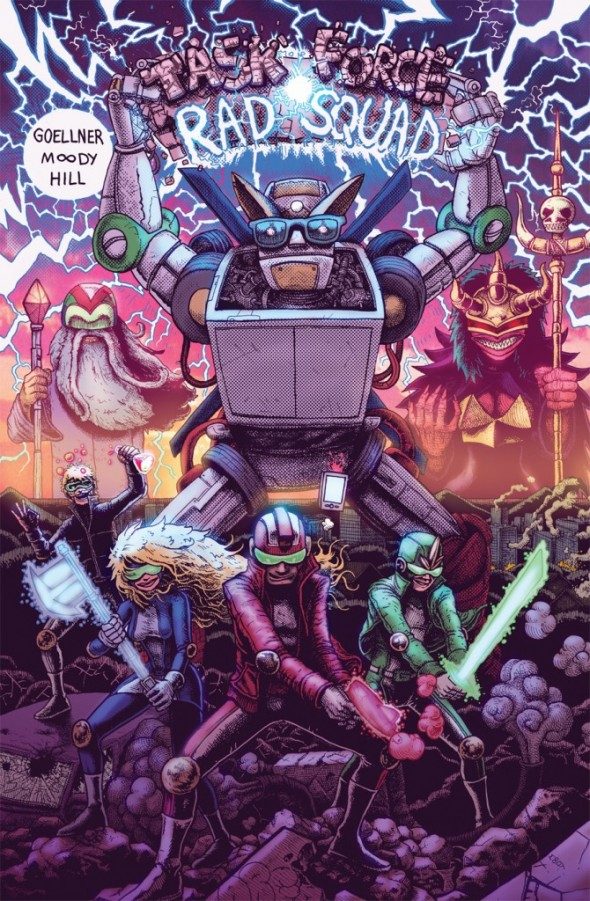 Caleb Goellner and Ryan Hill sign at Floating World Comics on Wednesday, April 17, 2013 from 6:00 till 8:00 pm! RSVP on Facebook!
Caleb Goellner is a blogger based in Portland, OR. He's originally from Kansas City, where he first met Buster Moody, colorist of Bayou and Screamland: Death of the Party. The duo bonded with Portland illustrator Ryan Hill, artist and colorist of the Dark Horse Comics Avatar: The Last Airbender Free Comic Book Day 2013 issue, over a shared love of tokusatsu, manga, and LEGO. Task Force Rad Squad is the trio's first team-up in an ongoing war against space monsters.
Earth's legit-est teenage protectors have vanquished evil and are settling into sleep mode… until their new mentor accidentally unleashes a fresh batch of cosmic monsters, forcing them to engage evil once again as Task Force Rad Squad.
Task Force Rad Squad #1 is a 32-page, full-color calamity by writer Caleb Goellner, artist Buster Moody, and colorist Ryan Hill that introduces readers to three teens with radditude, their substance-addled "mentor" and the weary AI known as PhRANCIS. Powered by the specious cosmic tech of an extinct Space Wizard civilization, the team has inherited a universe of messes that they rightfully resent having to mop up. But who knows? Maybe their struggle to protect Earth from sentient birthday cakes and hot garbage will wind up teaching them the true meaning of friendship? Maybe??? Seriously, we have no idea!
Floating World Comics
400 NW Couch Street, Portland, OR 97209
(503) 241-0227