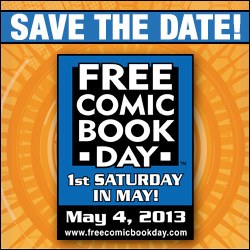 Steve Niles, Matthew Sturges, and Yehudi Mercado sign at Austin Books & Comics on Saturday May 4, 2013 for Free Comic Book Day!
Press Release: 
We're getting ready for our biggest, craziest day of the year – FREE COMIC BOOK DAY! You don't want to miss it!
Those of you that have joined us in previous years for the comic book world's own holiday know what to expect, but for the newbies, here's the day in a nutshell.
You'll wait in line (not that long, we have a pretty good system) at the giant tent we have set up in front of the store and choose 10 from all the FCBD selections available for yourself. There's a large selection available this year (over 50!) – but even that isn't enough for us. Austin Books always adds additional title to choose from!
We recommend you bring some water if it's a hot day. We have industrial fans blowing, but its important to stay hydrated!
Then stop inside and meet our special guests for the day: writers Steve Niles (30 Days of Night, upcoming Chin Music) and Matthew Sturges (House of Mystery, FCBD new release Damsels.) They'll be signing their books and comics and answering questions at times to be announced soon!
Our friend Yehudi Mercado (Pantalones, TX, Buffalo Speedway) will also be joining us to sign new FCBD release Mouse Guard/ Rust Flipbook, featuring Pantalones, Tx activity pages he created for the special issue!
For the third year in a row, the CCP Comics will be sketching for free for those waiting in line. They have an exciting tie-in to announce soon, so keep an eye out here for updates!
Be sure to bring your camera, because Sidekick Girl and Wonder Woman will be patrolling the line!
It's going to be our biggest Free Comic Book Day ever!
If you're interested in volunteering to be a part of the Austin Books FCBD team this year, email us at info@austinbooks.com with the words "FCBD volunteer" in the subject line! It's a non-paid gig, but we'll load you up with FCBD comics!
5002 N. Lamar Blvd, Austin, TX 78751