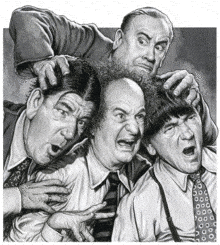 Drew Friedman speaks with Danny Fingeroth on Wednesday, April 24th, 2013 from 7:00 from 9:00 PM. Get tickets ($12) at the link!
Press Release:
The master cartoonist and satirist talks about his life and career, including previews of NEW, UNSEEN work, including his "Legends of Comic Books" series, in an interview and visual-presentation extravaganza.
DREW FRIEDMAN's comics & drawings have appeared in Raw, Weirdo, Heavy Metal, National Lampoon, SPY, The New York Times, MAD, The New Yorker, BLAB!, The New York Observer, The Wall Street Journal, Rolling Stone, Field & Stream, TIME, The Village Voice, etc. His comics and illustrations have been collected in 5 anthologies, the latest, "TOO SOON?". "Drew Friedman's Sideshow Freaks" was published by Blast books in 2011. Steven Heller in The New York Times wrote of his three volumes of portraits of "Old Jewish Comedians": "A festival of drawing virtuosity and fabulous craggy faces. Friedman might very well be the Vermeer of the Borscht Belt."
Danny Fingeroth and the Soho Gallery for Digital Art are pleased to announce THE COMIC BOOK ROUND TABLE, a series of five exciting comics-related events on five consecutive WEDNESDAY NIGHTS, APRIL 10-MAY 8.
Running for five consecutive WEDNESDAYS, starting APRIL 10, the CBRT will feature guests such as AL JAFFEE, DREW FRIEDMAN, DEAN HASPIEL, PETER KUPER, R. SIKORYAK, DAVID GERROLD, JOE ILLIDGE, PAUL KUPPERBERG, and moderator/organizer DANNY FINGEROTH, taking on topics of interest to pop culture lovers in general, and comics devotees in particular.
The Soho Gallery for Digital Art
138 Sullivan Street, New York, NY 10014