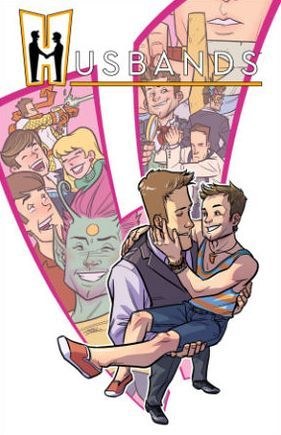 Jane Espenson and Brad Bell appear at Midtown Comics Downtown on Tuesday April 9th at 5:00 pm for a signing of the all new hardcover graphic novel, Husbands!
Jane Espenson is a regular collaborator with Joss Whedon, working on Buffy the Vampire Slayer and Firefly.
Purchase of the Husbands HC is required to attend the event.
Husbands HC:
Written by Husbands creators Jane Espenson (Buffy the Vampire Slayer) and Brad Bell, this is the comic-book continuation of the sitcom phenom. Husbands tells the story of famous gay newlyweds Brady and Cheeks, who sparked a media firestorm when they woke up legally wed after a drunken Vegas weekend. Now, a mystical wedding gift launches the couple on a series of adventures-a tongue-in-cheek journey through iconic genre realms-filled with obstacles that threaten to tear them apart. Follow Brady and Cheeks into a superhero showdown, a fairytale fantasy, a Holmesian mystery, an epic galactic battle, a madcap high school romp, and a saucy secret-spy thrill ride. Includes bonus "making of" material and a special introduction.
Midtown Comics
64 Fulton Street, New York, NY 10038