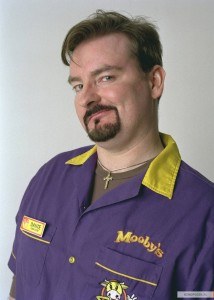 Brian O'Halloran, Rodney Ramos, Ryan Francis, and many more appear at Packrat Comics on Saturday May 4, 2013 for Free Comic Book Day!
Press Release:
Free Comic Book Day is again once upon us and as we plan and scheme the things to come, we will share them with you here. That means you'll want to bookmark this page and check it often!
Our fantaboulus guest list will grow and expand a number of ways. We'll have artists and writers and possibly an actor or two.
Featured Guests:
We are thrilled to include Brian O'Halloran as our guest of honor for our annual Free Comic Book Day celebration! Brian had the staring as Dante in Kevin Smith's breakout movie Clerks. After the success of the first film, Brian repraised his role in many of Smith's other movies, including Clerks II, Dogma, Mallrats, and Clerks the Animiated Series. Brian has returned to his theatrical roots and working with the Boomerang Theater Company, New Jersey Repertory Company and the Tri-State Actors Theater and in New Jersey.
Ryan Francis is joining the guest list as well! Ryan is known for playing Darren the Nerd in the cult B-Horror classic Thankskilling. He also has produced and starred in a new film titled The Biker Warrior Babe vs The Zombie Babies From Hell!
Rodney Ramos has been a professional penciler/inker in the comics industry for over 20 years. He has worked for many companies including DC and Marvel Comics, Marvel Comics U.K., Valiant, Acclaim Comics, Malibu and Continuity with Neal Adams. His work can be seen in such titles as Green Lantern, Batman, Deadpool, X-Force, Spider-Man, Gambit, Captain America, Booster Gold, and much more! And your opportunity to meet the inker for Sinestro Corps War is May 4, 2013!
Artists Alley!!!
Dirk Manning
Matthew Swift
Dawn Best
Jamie Snell
Molly Durst
Joshua Peters
Seth Lyons
JD Larabee
Mike Eshelman
Todd Beistel
Michael Anthony Carroll
All the details on our great lineup of artists can be found at our website!

And making their second trip to Packrat for FCBD is Mikey's Late Night Slice pizza truck! Yeppers! They're coming back and bringing more saucey goodness to our superhero fun filled afternoon!

During our annual nerd night party we'll have some comic book poker and the following bands lined up so far:
The Fritz
Nerd Table
Join Packrat Comics for our annual FCBD bash and Nerd Night celebration! You know you'll have fun! Invite a guest or two and plan on spending the day! Because you can't make it through in just a few minutes!
Packrat Comics
3872 Lattimer Street, Hilliard, OH 43026