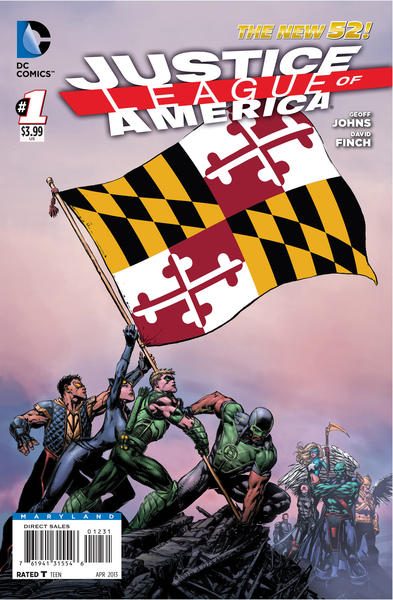 Press Release:
Baltimore Comic-Con Welcomes David Finch
BALTIMORE, MARYLAND – February 25, 2013 – The Baltimore Comic-Con is happy to announce the addition of superstar artist David Finch to the growing line-up of talent attending this year's show. The 14th Annual show will be held September 7-8, 2013 at the Baltimore Convention Center.
David Finch began his career in comics as the artist on the Top Cow Productions title, Cyberforce before co-creating the series Ascension. While at Top Cow, Finch also worked on such titles as Aphrodite IX, The Darkness, and Tales of the Witchblade.
In 2003, Finch began working with Brian Micheal Bendis on a year-long story arc for Marvel's Ultimate X-Men before the duo moved on to Avengers and New Avengers. During his 8 years at Marvel Comics, he worked on such titles as Moon Knight, Ultimatum, Wolverine, and Fallen Son: The Death of Captain America – Spider-Man.
In 2010, Finch announced that he was leaving Marvel to become an exclusive artist with DC Comics and was one of several artist who worked on the bi-weekly title, Brightest Day. In January of 2011, Finch began writing and drawing Batman: The Dark Knight.
After DC's launch of the New 52, he continued writing and drawing the second volume of the Batman: The Dark Knight, as well as providing cover art for Justice League, Justice League International, and Birds of Prey. He is currently the artist on the recently launched, Justice League of America.
"David is one of the most talented artists working in comics today and we couldn't be happier to have him returning to Baltimore again this year," said Marc Nathan, show promoter of the Baltimore Comic-Con. "He's a fan-favorite creator so this will be a real treat for everyone attending the show!"
Finch joins our other confirmed guests for the show including: Brian Bolland (Dial H); Mark Buckingham (Fables); Jimmy Cheung (Avengers vs. X-Men); Frank Cho (Savage Wolverine); J.M. DeMatteis (Phantom Stranger); Dave Gibbons (The Secret Service); Keith Giffen (Masters of the Universe); Adam Hughes (Before Watchmen: Dr. Manhattan); Barry Kitson (Empire); Roger Langridge (Popeye); Paul Levitz (World's Finest); Kevin Maguire (World's Finest); Mike Mignola (Hellboy In Hell); George Perez (World's Finest); David Petersen (Mouse Guard); Joe Prado (Earth 2); Ivan Reis (Aquaman); Chris Samnee (Daredevil); Louise Simonson (X-Factor); Walt Simonson (The Mighty Thor); Allison Sohn (sketch card artist); and Mark Waid (Indestructible Hulk).
In the coming weeks, look for more announcements from the Baltimore Comic-Con. We are looking forward to highlighting our guests, the Harvey Awards, industry exclusives, and programming. The latest developments can always be found on our website, Twitter, and Facebook pages.
Contact Information
Please use the following e-mail addresses to contact the Baltimore Comic-Con:
press@baltimorecomiccon.com – for any general press inquiries or to be added to our PR distribution
promoter@baltimorecomiccon.com – for requesting exhibitor, publisher, and Artist Alley applications
registrar@baltimorecomiccon.com – for inquiries about submitted registrations
harveys@baltimorecomiccon.com – for the Harvey Awards ceremony and banquet
general@baltimorecomiccon.com – for general Baltimore Comic-Con inquiries
About The Baltimore Comic-Con
The Baltimore Comic-Con is celebrating its 14th year of bringing the comic book industry to the Baltimore and Washington D.C. area. For more information, please visit www.baltimorecomiccon.com.
About The Harvey Awards
The Harvey Awards are one of the comic book industry's oldest and most respected awards. With a history of over 20 years, the last 9 in conjunction with the Baltimore Comic-Con, the Harveys recognize outstanding achievements in over 20 categories. They are the only industry awards nominated and selected by the full body of comic book professionals. For more information, please visit www.harveyawards.org.