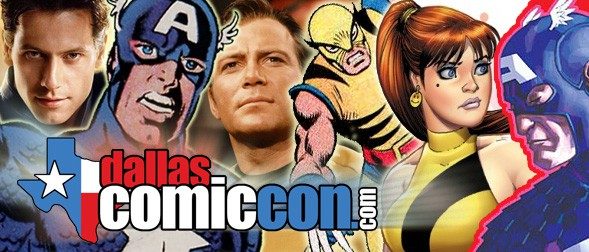 Press Release:
The Dallas Comic Con adds exciting guests from comics & film for their May 17-19 show!
This May 17-19, the Dallas Comic Con returns to the Irving Convention Center with an already-impressive lineup of guests from the world of comic books and pop culture film & television. Several announcements have been made on almost a daily basis via the show's official Facebook page, and (as of this writing) tickets are about to go on sale for online customers through the show's official website. The 2011 edition of the DCC was the first to be held in the Irving Convention Center, which at the time was just completed. The 12,000 fans that showed up made the event a success, but in May of 2012 that attendance number nearly doubled, making Dallas Comic Con a convention to take note of in the Southwest.
Event Manager Mark Walters stated, "The growth of our event was incredible, and we're thinking the 2012 show, which incidentally fell on our 10th Anniversary, was a major stepping stone for us. This year we're limiting tickets to deal with potential crowd issues, so we're encouraging fans to buy their passes early and not miss out on the fun. Also new for 2013 is the 3-day aspect, something that should become the norm going forward. We're giving the fans and extra day to do all the shopping they want and meet their industry heroes. We pride ourselves on being an accessible event for all ages, and this year's show is already shaping up nicely."
The guest list started off with some cool names from both the media and comic book industry. Captain Kirk himself, William Shatner, will be appearing on Saturday at the event, and Amanda Conner and Jimmy Palmiotti make a welcome return to the Dallas area signing all three days. Other recent comic book guest additions include the legendary Jim Steranko (who designed Indiana Jones), Len Wein (co-creator of Wolverine and Swamp Thing), Dave Johnson (cover artist of Punisher and Deadpool), Andrew Robinson (cover artist of Detective Comics and Starman), Eric Canete (artist of Superboy and New Avengers: Luke Cage), Doug Sneyd (legendary Playboy artist), Arthur Suydam (Marvel Zombies), Mark Brooks (Uncanny Avengers), Phil Noto (Batgirl and Buffy), and John Lucas (Exterminators and Uncanny X-Force). Recent media guest additions include Ioan Gruffudd (Fantastic Four), Natasha Henstridge (Species), Brent Spiner (Data on Star Trek: The Next Generation), LeVar Burton (Geordi on Star Trek: The Next Generation), Gates McFadden (Beverly Crusher on Star Trek: The Next Generation), Ernie Hudson (Ghostbusters and The Crow), John Noble (Fringe), Jasika Nicole (Fringe), and Jason David Frank and Catherine Sutherland (both from Mighty Morphin Power Rangers)… but the guest list is by no means done. The event runs three days and features a fun, family atmosphere. There will be multiple floors filled with activities and Q&A panels all weekend.
You can find more information at the Facebook page http://www.facebook.com/DallasComicCon or the official show website http://dallascomiccon.com