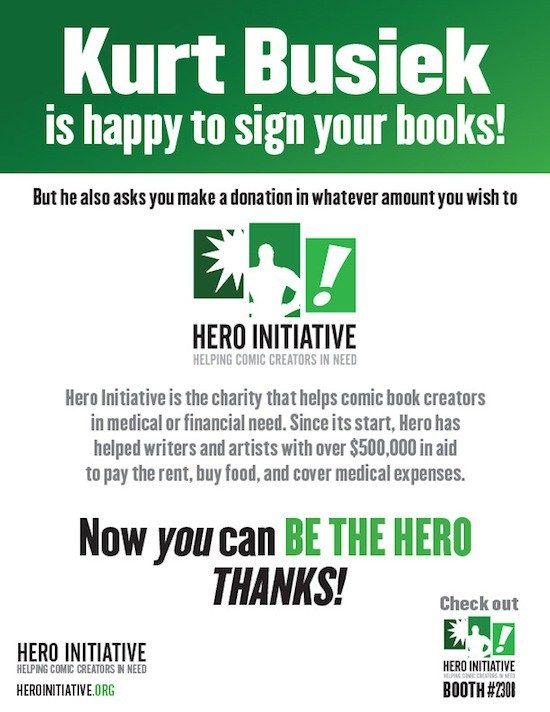 Press Release:
Hero Initiative at Emerald City Comic Con
Dollar Days all weekend!
All to raise money for Hero Initiative!
Los Angeles, CA (February 25, 2013) Hero Initiative, the non-profit organization that aids comic creators in medical and financial need is heading to Emerald City Comic Con March 1st through 3rd in Seattle, Wash. at the Washington State Convention Center.
All through the weekend, participating artists throughout the floor will be donating a dollar for their signature. As win-win all the way around!  You can donate just a dollar and help Hero Initiative continue it's important work for the industry.
Check out the list of participating artists:
Eric Canete
Mike Choi
Francesco Francavilla
Chris Gage
Paul Jenkins
Dave Johnson
Denny O'Neil
Dan Panosian
Brian Pulido
Darick Robertson
Tim Sale
Matteo Scalera
Fiona Staples
Richard Starkings
Mark Waid
Bill Willingham
Make sure you seek them out and stop on by the booth, #2308 and see what else we have.
About The Hero Initiative
The Hero Initiative is the first-ever federally chartered not-for-profit corporation dedicated strictly to helping comic book artists and craftsmen in need. Hero Initiative creates a financial safety net for yesterday's creators who may need emergency medical aid, financial support for essentials of life, and an avenue back into paying work. It's a chance for all of us to give back something to the people who have given us so much enjoyment.
Since its inception, The Hero Initiative has had the good fortune to grant over $500,000 to the comics veterans who have paved the way for those in the industry today. For more information, visit www.heroinitiative.org or call 626-676-6354.