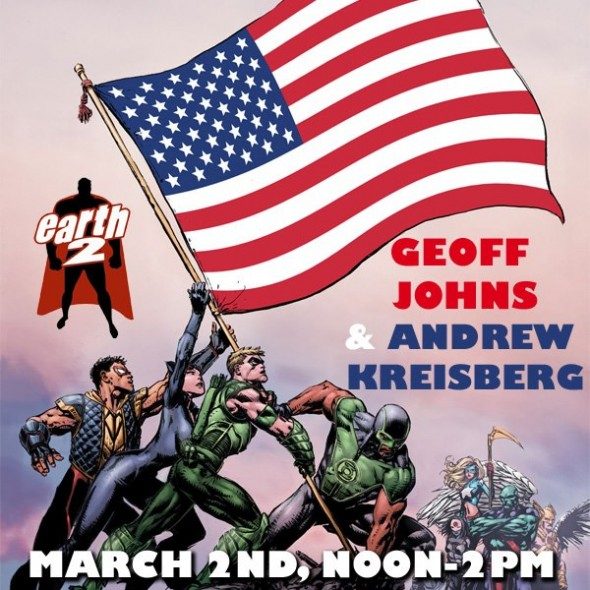 Writers Geoff Johns and Andrew Kreisberg appear at Earth-2 Comics Northridge on Saturday March 2, 2013 from noon to 2:00 pm to celebrate the relaunch of Justice League of America and Justice League of America's Vibe. The writers will be available to meet with fans and sign the first issues of both Justice League of America, written by Johns, and illustrated by David Finch, and Vibe, written by Kreisberg and Johns, and illustrated by Pete Woods.
While Johns has been writing the hit Justice League series since 2011, this marks the debut of the classic Justice League of America title in DC Comics's popular New 52 line of titles. Vibe originated in the 1980s Justice League of America series but the character died heroically in the line of duty.
Justice League of America #1 is being released with 53 covers featuring the United States flag along with the flags of the 50 states, the District of Columbia and Puerto Rico.
The event will take place at Earth-2 Comics Northridge located at 8967 Reseda Blvd. on Saturday March 2 from noon-2pm.
All-American snacks will be available from the Munchie Machine food truck.
Geoff Johns is the award-winning writer of such popular comic-book series as Green Lantern, Blackest Night, Aquaman and Superman Secret Origin as well as the screenwriter of acclaimed episodes of Smallville. He currently serves as Chief Creative Office of DC Comics and is a partner in Earth-2 Comics Northridge.
Andrew Kreisberg is currently Executive Producer of the hit Arrow TV series on the CW. In addition to serving as writer and co-executive producer on such TV series as Warehouse 13 and Fringe, he has also written such comic books as Green Arrow/Black Canary and the well-received Batman/Joker tale Dead to Rights.
Earth-2 Comics, founded in 2003, was the 2007 winner of the Will Eisner Spirit of Comics Retailer Award. In 2009, Earth-2 opened a second location in Northridge. In 2011, Earth-2 was named "Best Place to Stock Up on Trade Paperbacks" by the LA Weekly in their annual Best of LA issue.
Earth-2 Comics
8967 Reseda Blvd, Northridge, CA 91324
(818) 993-7804