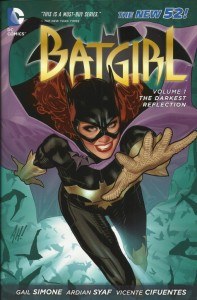 Writer Gail Simone appears at Acme Comics this Saturday February 9th from 11:00 am until 3:00 pm to sign your comics, paperbacks, and hardcovers!
Press Release:
This has been a long time coming, as she's one of THE most requested creators that you fans have consistently asked to see at Acme, and we're very pleased to announce that on Saturday, February 9th from 11 AM – 3 PM, we'll be hosting a signing with comics writer Gail Simone!
Gail will be happy to sign your copies of Birds of Prey, Welcome to Tranquility, the All-New Atom, New 52 Batgirl, or anything else she's written! However, due to other commitments, the signing will begin at 11 AM and Gail will be on the road promptly at 3 PM! Show up early and have your comics ready to be signed!
Today Gail Simone is easily the most prolific female writer in comics, as well as one of the most respected opinions in the industry! She broke through in the early aughts with her blog Women in Refrigerators, commenting on the treatment of women via comic content, and she continued to opine on the world of comics up through 2003 via her Comic Book Resources column You'll Be Sorry.
Though she's most well-known for her work at DC, Simone actually started creating comic content for The Simpsons from Bongo and Deadpool and Agent X from Marvel! Then, in August 2003, she crossed the street and began making her mark on the DCU, taking over Birds of Prey with issue #56, beginning a stewardship of Barbara Gordan that has now spanned a decade!
Other runs and series for DC have included Acme favorite Secret Six (with Earth 2's Nicola Scott), Wonder Woman (with Terry Dodson, Aaron Lopresti and Scott), Action Comics (with John Byrne), and Rose & Thorn!
Since September 2011 and the New 52, she's been running Barbara Gordon, once again with the use of her legs, through a gauntlet of new villains in Batgirl, while launching the Fury of Firestorm, the Nuclear Men with co-writer Ethan Van Sciver!
We have to stress what a truly rare event this is, so plan accordingly so that you can be here to join us in thanking Gail for all the great stories she has given us!
Acme Comics
2150 Lawndale Drive, Greensboro, NC 27408
336-574-2263