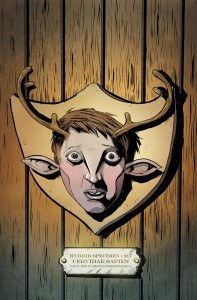 Jeff Lemire, Ty Templeton, Agnes Garbowska, and more appear at Comic Book Lounge on Saturday, February 9th!
Press Release:
Hard to believe it has almost been a year since we opened our doors on February 8th, 2012 and we would like to celebrate by holding some special events on the weekend of February 9-10. We're planning a three stage celebration – an in-store minicon on Saturday afternoon, followed by an On the Couch with Ty Templeton and an Industry Night Party after that. On Sunday it's Sketchbook Pro Day with drawing demonstrations and related talks taking place over the afternoon.
SATURDAY FEBRUARY 9
12-7 In-Store Mini-Con — special appearances and signings all day.
Guests include:
Jeff Lemire (Sweet Tooth, Green Arrow, Justice League Dark)
Celebrate the release of Green Arrow 17 and the conclusion of Sweet Tooth with Jeff Lemire
Ty Templeton (Marvel Ultimate Spider-Man)
Scott Chantler (Two Generals, Three Thieves)
Mike Del Mundo (Marvel Cover Artist Extraordinaire)
Agnes Garbowska (MyMisiu, You Me & Zombie)
Christopher Yao (Artist in Residence)
MORE GUESTS TBA
Signing times TBA
The February gallery show will be a multi-creator installation of artwork from Kevin's personal collection.
7-11pm ON THE COUCH RETURNS! with Ty Templeton followed by an Industry Night Party
Also take note:
SUNDAY FEBRUARY 10
Exploring Digital Comics – Sketchbook Pro Day!
Come in and see how Sketchbook Pro can work for you – we're planning a day of drawing demonstrations and talks between Noon and Five to show you what the software is capable of doing for you.
The Comic Book Lounge & Gallery
587A College Street, Toronto, Ontario M6G1B2