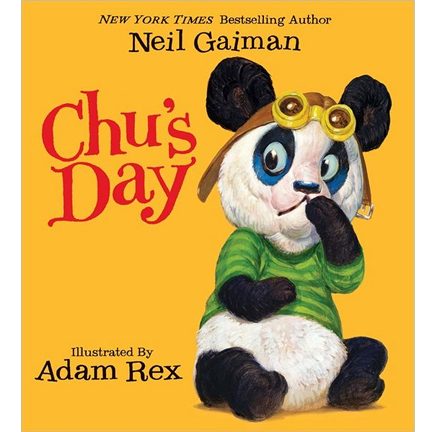 Writer Neil Gaiman and illustrator Adam Rex appear for a release event at Books of Wonder on Saturday February the 23rd at noon! Gaiman says on his blog, "We'll sign all the copies of Chu's Day anyone wants, and other books as well. Books of Wonder is one of my favourite Children's bookshops in the world."
Press Release:
Books of Wonder is thrilled to invite all our loyal customers and friends, both young and not-so-young, to an event of giant (panda) proportions. Mark your calendars for Saturday, February 23rd, set your alarm clocks to make sure you'll be here at noon, and start counting down the days until #1 New York Times best-selling author and Newbery medalist NEIL GAIMAN joins New York Times best-selling illustrator ADAM REX for an appearance at Books of Wonder where they will sign copies of their new picture book…
Every so often an author and artist work together and create something truly special, a book with a whimsical text and vivid illustrations which come together seamlessly to create a story young readers and listeners will love. On Saturday, February 23rd, everyone is invited to be part of
Chu's Day at Books of Wonder, as we are all introduced to a baby panda with a monstrous sneeze!
Beginning at noon, NEIL GAIMAN and ADAM REX will sign copies of CHU'S DAY and all their other wonderful titles for their numerous fans. Here are the publisher's guidelines for getting your books signed:
* Neil and Adam will personalize an UNLIMITED number of CHU'S DAY purchased from Books of Wonder and will sign up to TWO other NEWLY purchased books.
* Neil and Adam will sign ONE beloved book brought from home.
* If a customer does NOT have a CHU'S DAY or a NEWLY purchased book of some kind, they will have to go into a second signing line that will go AFTER the first signing line is completed.
As a cherry on top what is already a sweet Saturday afternoon, NEIL GAIMAN and ADAM REX would like to show their support for Books of Wonder by pre-signing a special quantity of Limited Edition Chu's Day Posters which will be available to fans at the event and online for a donation of $15 to Books of Wonder.
We can hardly wait to share this special afternoon with book lovers of all ages. NEIL GAIMAN and ADAM REX will meet and greet fans, and sign all their many wonderful, award-winning titles. Ages 4 and up. Saturday, February 23rd, Beginning at Noon.
*Please note: We will be distributing numbers to everyone, beginning at 10am the day of the signing, to reserve your place in line. Due to the large turnout we expect, there will not be a reading or presentation, just a book signing. To save yourself time, we advise pre-ordering and paying for your books at the store before the day of the event, so you can get in the express line to pick up your books and a number that day. Once you have your number, you can either wait in the store (and maybe get some treats at the new Birdbath Cafe at Books of Wonder) or leave and return to the store when the signing starts at noon. For those with a higher number, we will be tweeting what numbers we're lining up so that you may monitor where we are in the process and gauge when to return to the store so you don't miss your spot in line.
Books of Wonder
18 West 18th Street, New York, NY 10011