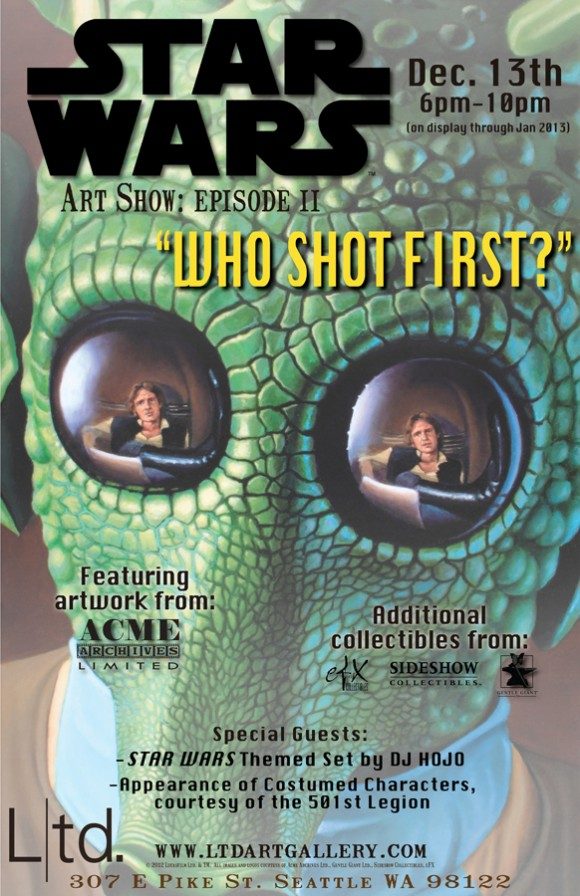 Ltd. Art Gallery hosts their second annual STAR WARS art show, once again paying homage to the much beloved universe and characters that George Lucas built.
Over 40 artists will be displaying their own unique interpretation of these classic films, drawing upon the characters and themes that have inspired them since childhood.
Featuring Lucasfilm Fine Art from Acme Archives; and collectible statues, toys, and replicas from Gentle Giant Studios, eFX Collectibles, and Sideshow Collectibles.
We will also be debuting a brand new print from acclaimed STAR WARS artist, Steve Thomas.
Additional Art From: Barry Blankenship, Craig Drake, Michael Fleming, Kim Gordon, Blunt Graffix, Eric Kirchmer, Aaron Jasinksi, MIKEATRON!, Augie Pagan, Devi Pellerin, Brian Rood, Wade Schin, Clarke Snyder, Cat Staggs, Suckadelic, Jayson Weidel, Andrew Wilson, and Wednesday Wolf.
Opening Night SPECIAL EVENTS:
– Costumed Characters courtesy of the 501st Legion
– A themed set from DJ Hojo.
– and our own special "Mos Eisley Cantina" with complimentary drinks
WE WILL ALSO BE GIVING AWAY A NINTENDO 3DS to one lucky attendee, donated by Nintendo America.
Ltd. Art Gallery
307 E Pike St, Seattle, WA 98122