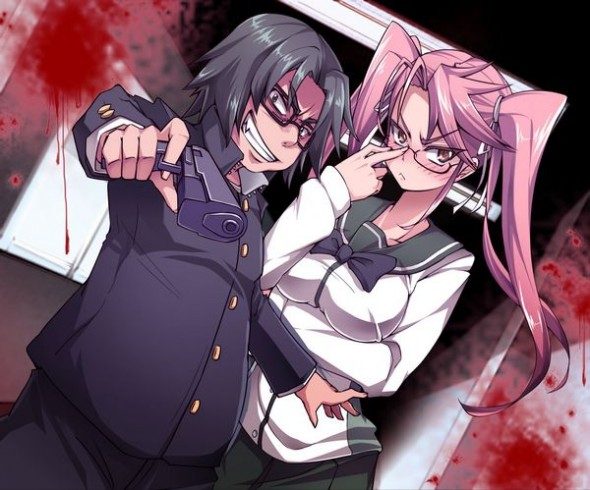 Press Release:
ANIMATE! MIAMI ANNOUNCED FOR JANUARY 18 – 20, 2013
3 day Anime, Animation and Cosplay Festival in Miami, FL.
www.animatemiami.com
Miami, FL – Animate! Miami is a NEW convention dedicated to Anime, Animation and Cosplay set for January 18 – 20, 2013 at the Miami Airport Convention Center. Animate! Miami is a 3 day festival that will feature celebrity guests, artists, writers, filmmakers, bands, vendors and exhibitors, as well as hundreds of events, including: celebrity Q&A's, costume contests, cosplay photo shoots, industry panels, live music, video games and much more! Animate! Miami is organized by the same team that puts on the massive Florida Supercon in Miami each year, and will serve as a second event for fans to enjoy.
The first five guests have already been confirmed for Animate! Miami, with dozens of celebrity guests are expected to be announced as the event nears. The initial guest list includes:
Monica Rial: Monica has been working in the anime voice over industry for 13 years. As an actress for ADV Films and Funimation Entertainment she has lent her voice to over 250 anime including: High School of the Dead (Shizuka), Soul Eater (Tsubaki), Air TV (Misuzu), Azumanga Daioh (Nyamo), Baccano! (Chane), Black Butler (Mei Ren), Black Cat (Kyoko), Burst Angel (Jo), Chrome Shelled Regios (Felli), Chrono Crusade (Fiore), Claymore (Miria), DN Angel (Towa), D. Gray-man (Lero/Lulu Bell), E.F. a Tale of Memories (Chihiro), Excel Saga (Hyatt), Fairy Tail (Mirajane), Full Metal Panic (Kyoko), Ghost Stories (Momoko), Gunslinger Girl (Angelica), Hetalia (Flying Mint Bunny/ Belarus), Kurau Phantom Memory (Kurau), Moon Phase (Hazuki), Negima (Konoka/Kazumi/Satsuki), Noir (Kirika), One Piece (Tashigi/Carue/Kuina), Ouran Host Club (Renge), Princess Jellyfish (Mayaya), Rahxephon (Haruka), School Sergeant Frog (Momoka), Shuffle! (Asa), Speed Grapher (Kagura), Spiral (Rio), Tsubasa Chronicles (Sakura), Witchblade (Maria) and many more. She can be heard on the Cartoon Network in Shinchan (Ai), Fullmetal Alchemist (Lyra/Dante), Fullmetal Alchemist Brotherhood (May Chang), Case Closed (Amy) and Trinity Blood (Vanessa). You can also catch her on Nicktoons and the CW as Bulma in Dragonball Z Kai. She is also an ADR script adaptor and occasionally a director for Funimation Entertainment.
Brittney Karbowski: Brittney is an Anime Voice Actress for many Funimation and ADV releases including: Soul Eater (Blackstar), Fullmetal Alchemist: Brotherhood (Selim Bradley/Pride), Xenosaga (M.O.M.O.), Pani Poni Dash! (Himeko), Coyote Ragtime Show (Franca), Kanon (Ayu Tsukimiya), Yumeria (Mone), Godanner (Momoko), Gilgamesh (Fuko), Ouran High School Host Club (Hinako), Negima!? (Anya), Sasami: Magical Girls Club (Anri Misugi), Air Gear (Reng Fa), One Piece (Apis), Le Chevalier D'Eon (Anna Rochefort), Claymore (Riful), Hell Girl (Minami Shibuya) and more! Brittney is more than just a voice actor, and can be seen in the feature films Up & Down, Puncture (co-starring with Chris Evans) and Code of Evil.
John Swasey: According to Anime News Network, John Swasey is the most prolific male voice actor in North America with more roles and titles under his belt than any other male voice actor. John has voiced hundreds of shows and characters with ADV Films, Funimation, Sentai Films, Gearbox, and Illumitoons just to name a few. Being more of the character actor type has given John the freedom to voice bazillions of characters such as Gendo in Evangelion, the Captain in Halo (VG), Lord Death in Soul Eater, Hoenheim in Fullmetal Alchemist, Sir Crocodile in One Piece, Salvador in Borderland II (VG), Kogoro in Sgt. Frog, Huang in Darker than Black, Vulcan in Orphen, Ken in Kaleido Star, Captain Ahab in Hakugei The Legend of Moby Dick, Rikudoh in RahXephon, Mister in Coyote Ragtime Show, as well as roles in the live action films 2009 Lost Memories, Conduct Zero, Yesterday, Jungle Juice, and the Gamera trilogy. In 2004, John jumped to the other side of the "mic" to direct. Some of the shows he has directed include Welcome to the N.H.K., AirGear, Wandaba Style, St. Seiya, Shadow Skill, E's Otherwise, Michel, Jinki Extend and Shinobi.
Maggie Flecknoe: Maggie is a voice, stage, film and television actress, writer, producer, and host of the nationally syndicated television segment "The Online Dish" for Tribune and The CW Affiliate KIAH-TV Ch. 39. Maggie is best known to Anime fans for her roles in High School of the Dead (Saya Takagi), Clanned (Yukine Miyazama), Samurai Girls (Hanzo Hattori), Pani Poni Dash (Ichijo), Best Student Council (Mami Aoki), Broken Blade (Lee), Comic Party Revolution (Sawada), Demon King Daimao (Korone), Devil May Cry (Cindy), Ghost Hound (Aya Komagusu), Heaven's Memo Pad (Miku Kimura), ICE (Aoi), Kanon (Shiori Misaka), Kiba (Aisha), Legends of the Dark King (Isabella), Needless (Aruka Schild, Seto), Night Raid 1931 (Lili, Shunyo Akitsuki), Pani Poni Dash! (Ichijo), Project Blue Earth SOS (Maggie), Red Garden (Rachel Benning), Shattered Angels (Setsuna), Tokyo Majin (Hinano Oribe, Sera Rikudo), The World God Only Knows (Kusunoki Kasuga, Miss Nikido), Venus Versus Virus (Risa) and Xam'd Lost Memories (Prois Sukakki) to name a few. When she's not acting, Maggie is broadcasting. She was an entertainment reporter and traffic anchor for 790 "The Sports Animal" and a reporter and producer for News Radio 740 KTRH.
Mark X Laskowski: Mark has appeared in numerous anime series over the past sixteen years. Mark has recently starred as Kōta Hirano in High School of the Dead and in Clanned After Story as Tajima. His other vast credits include: Air Gear (Issa "Buccha" Mihotoke), Angel Beats! (Igarashi), Angelic Layer (Masaharu Ogata), Area 88 (Bucksy), The Book of Bantorra (Relia Bookwat), Coicent (Yellow Brother), Comic Party Revolution (Yosshi), Cyber Team in Akihabara, Diamond Daydreams, Excel Saga (Norikuni Iwata), Ghost Hound (Eiichi Ooya, Hiroshi Furusawa), Gintama: The Movie (Shinpachi Shimura), Godannar (Morimoto), The Guin Saga, Guyver: The Bio-Boosted Armor (Elegen), Halo Legends (Teenage Boy, Marine), Intrigue in the Bakumatsu, Kiba (Stonos, Xeed), Kurau Phantom Memory, Legends of the Dark Kings (Juza, Hucker), Martian Successor Nadesico, Nerima Daikon Brothers, Night Raid 1931, Noir, Papuwa (Nagoya Willow, Great Man-God, Blue Scat Mouse), Pumpkin Scissors (Paulo), RahXephon, Sister Princess, The Super Dimension Fortress Macross (Warera Nantes), UFO Ultramaiden Valkyrie, Xam'd Lost Memories and more!
Some of the amazing events planned for Animate! Miami include:
Q&A's with all of our attending guests
Fan panels for anime, animation, cosplay and video games.
Industry panels for anime and animation.
Costume Competition with over $1,500 in cash and prizes
Dozens of Cosplay Photo Shoots for cosplayers and photographers
Supercon Championship Wrestling featuring Cobra Commander, The Joker, The Mario Bros., The Geico Caveman and more!
Live Musical Performances
Live Stand Up Comedy
Anime Screenings and Anime Music Videos
Video Game Tournaments
A 50,000 square feet exhibition room with over 200 booths and tables featuring vendors, celebrity guests, artists, filmmakers and exhibits.
Complete information and up to the minute updates can be found at www.animatemiami.com and www.facebook.com/animatemiami
The convention hours of operation are:
Friday, January 18: 2:00pm – 3:00am
Saturday, January 19: 11:00am – 3:00am
Sunday, January 20: 11:00am – 3:00am
THE MIAMI AIRPORT CONVENTION CENTER is located at 711 NW 72nd Ave, Miami, FL 33126