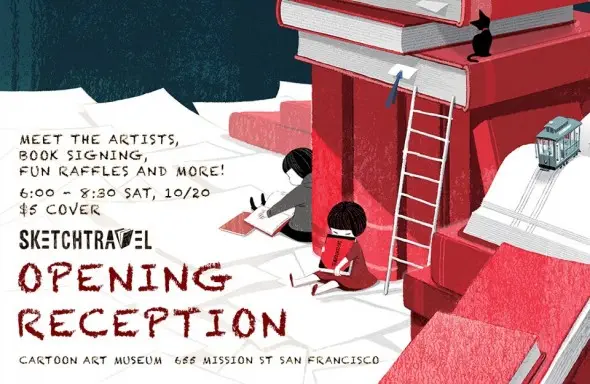 Artists Ronnie del Carmen, Bill Presing, Erik Tiemens, Eli Harris, and Dice Tsutsumi appear at the Cartoon Art Museum on Saturday October 20, 2012 from 6:00 – 8:30 pm.
Press Release:
The Cartoon Art Museum proudly presents Sketchtravel, a unique collaborative project bringing together 71 talented artists from around the world.
Acclaimed artists Dice Tsutsumi of Japan and Gerald Guerlais of France originated Sketchtravel as an international charity art project. A simple red sketchbook was passed from one artist to another, not unlike an Olympic torch, in an artistic relay through 12 countries over the course of four years. The end result was a beautiful sketchbook containing the personal visions of 71 exceptional illustrators, animators and comic book artists including Bill Plympton, James Jean, Rebecca Dautremer, Glen Keane, Frederick Back, and Studio Ghibli founder and animation legend Hayao Miyazaki. This sketchbook was sold at auction in 2011, raising funds for Room to Read, an international literacy non-profit, and helping to build five libraries in five third-world nations so far.
The Cartoon Art Museum's latest exhibition, Sketchtravel, features full-sized reproductions of this material, painstakingly recreated as giclee prints to allow the highest quality presentation of the original Sketchtravel paintings and illustrations.
Cartoon Art Museum
655 Mission Street, San Francisco, CA 94105