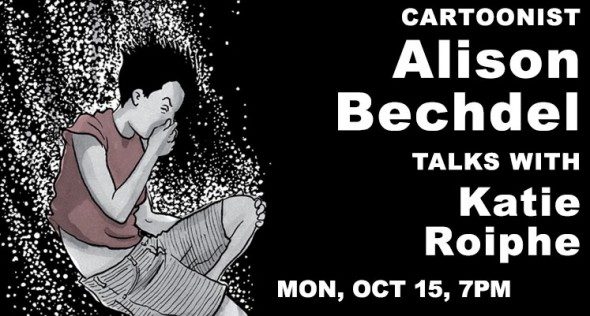 Alison Bechdel appears at the Strand with Katie Roiphe on Monday October 15, 2012 at 7:00pm.
Press Release:
Graphic illustrator/memoirist Alison Bechdel has quickly moved from a cult hero into the public eye. Her smart, thoughtful, comic and often moving look at family and her funny, open look at lesbian life has made her someone to profile. Even before she became a graphic artist people knew her famed "Bechdel Test" was all over the internet.
Katie Roiphe has written three books of non-fiction including The Morning After: Fear, Sex and Feminism and more recently Uncommon Arrangements: Seven Portraits of Married Life in London Literary Circles 1910-1939, as well as a novel. Her provocative work and outspoken position has made her a kind of cultural lightning rod when it comes to women's issues.
The Strand
828 Broadway (at 12th St.), New York, NY 10003-4805