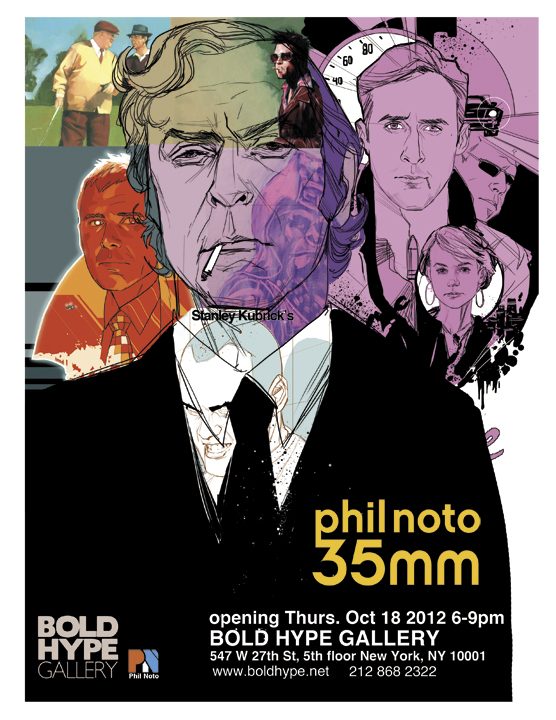 Phil Noto opens a new solo exhibit titled "35mm" at Bold Hype Gallery on Thursday, October 18, 2012 from 6PM – 9PM.
Free Admission. Open to the public
Born in 1971, Phil Noto grew up in Florida and attended the Ringling School of Art and Design. After college he began a career in animation at Walt Disney Feature Animation. During his 10 year career at Disney he worked on such films as The Lion King, Pocahontas, Hunchback of Notre Dame, Mulan, and Lilo and Stitch. In 2001, Phil started his comic career as the cover artist for DC Comics' Birds of Prey. Since then he has worked on numerous comic projects such as Beautiful Killer, Danger Girl, Jonah Hex, Superman/Supergirl : Maelstrom, Batgirl, Avengers, Wolverine/Jubilee and the Eisner Award-nominated, Infinite Horizon. While working in the comics field, he has also done art for magazines, video games, advertising and movies.
Phil is heavily influenced by 60's and 70's art and fashion. Sleek female figures, text, and retro design elements are a trademark of his paintings. He has had 4 solo exhibitions and has been a part of numerous group shows. His two art books, Jet Seven and Trans Am Champions (Brandstudio Press) sold out quickly and are highly sought after by collectors. Phil currently resides in Washington with his wife, Beth and their 2 children, Kate and Fletcher.
Bold Hype Gallery
547 W. 27th Street, New York, NY 10001