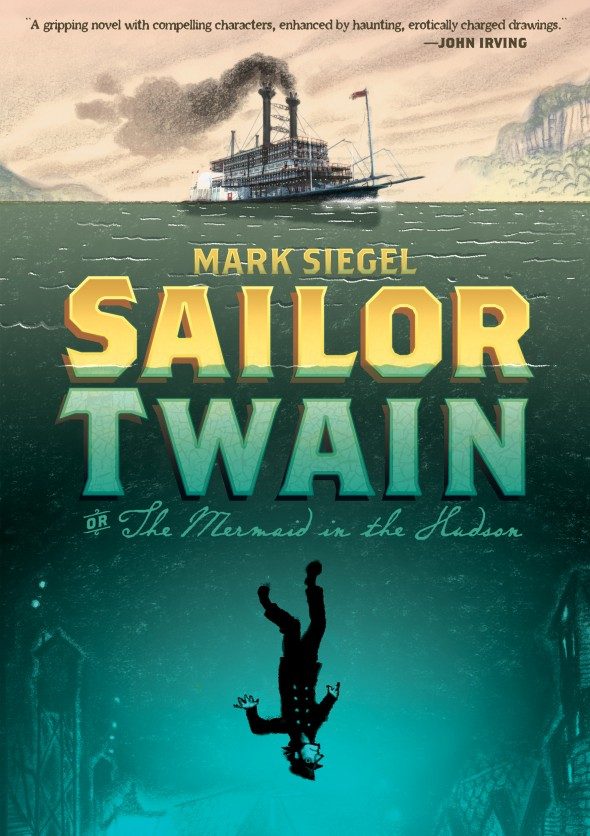 Mark Siegel signs at The Norwich Bookstore on Thursday October 11th at 7:00 PM!
Press Release:
A century ago, aboard a steamboat on the Hudson, one Captain Twain rescues a wounded mermaid and hides her in his cabin to recover. How long can he keep her?  And what effect will she have on him, and the ship?  (The sighting of a mermaid is said to be bad luck.)  Sailor Twain is a nautical graphic romance — surely one of the first — a captivating sea tale charmingly rendered in charcoal.
Though this book is Mark's adult graphic novel debut, his children's books have won all sorts of awards and recognition, including the Sibert Honor and the Bluebonnet. He has been serializing Sailor Twain online prior to publication, and building up a huge fanbase – the comic already has millions of page views, and has fans who have created both a Sailor Twain wine label and a Sailor Twain jewelry line!
"I had a most engaging voyage on the doomed Lorelei, and I much enjoyed meeting young Captain Twain, not to mention the mermaid in the Hudson. This is a gripping novel with compelling characters, enhanced by the haunting, erotically charged drawings." – John Irving
This event, hosted in partnership with the Center for Cartoon Studies, will be held in their new facility in White River Junction. Reservations are not needed.
The Norwich Bookstore
291 Main Street, Norwich, VT 05055