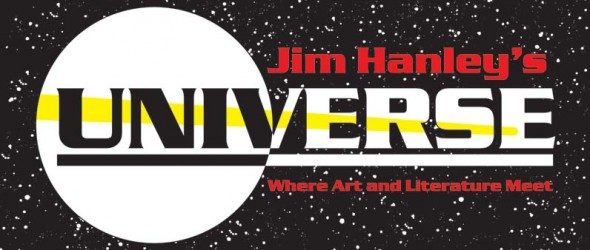 Jim Hanley's Universe hosts two huge events next Wednesday, October 10, 2012!
Press Release:
Signing at our Manhattan Location on October 10 from 5:00pm to 7:00pm are a half dozen of the coolest creators in comics right now, including the the team behind DC's Nightwing, writer Kyle Higgins, artist Eddy Barrows, and colorist Rod Reis; PLUS special guests Amy Reeder (Batwoman, the new Halloween Eve from Image), Trevor McCarthy (Batman: Gates of Gotham), and Brandon Montclare (Halloween Eve).
Then at 7:00pm, Jim Hanley's Universe in New York City is proud to present the Pop Music In Comics Panel Discussion and Signing at the JHU Underground in Manhattan, Wednesday, October 10!
Patrick Reed (editor of Depth Of Field Magazine) will moderate this exclusive panel discussion featuring some of the hottest creators in comics today, discussing their work and the intersection of comics and popular music. Joining us for this lively and unique panel:
–Elizabeth Keenan (ethnomusicologist, pop culture writer and instructor at Fordham University)
–Kieron Gillen (Phonogram, Uncanny X-Men, Journey Into Mystery, and the upcoming Iron Man)
–David Gallaher (High Moon, Box 13, The Only Living Boy)
–Sina Grace (Li'l Depressed Boy, Not My Bag)
–Jamal Igle (Molly Danger, IDW's KISS)
–Andrew Robinson (The Fifth Beatle, Dusty Star and The Space Junkies)
–Charles Soule (27, Strange Attractors)
–Avi Spivak (Human Being Lawnmower, Kicksville Confidential)
–Ronald Wimberly (Prince Of Cats, Sentences: The Life of M.F. Grimm)
The event will feature complimentary refreshments from Tompkins Square Bagels, Angry Orchard Brewery, Saranac Brewery, and Southampton Brewery. Free food and drink, talking about comics and music, and meeting a ton of great creators – this is pretty awesome. RSVP on Facebook!
Some come on over to JHU Underground at our Manhattan store in the heart of the City for this amazing panel and signing event, Wednesday, October 10 from 7:00pm to 9:00pm! Exclusively at Jim Hanley's Universe in New York City, For 27 Years and Counting Where Fans and Creators Meet!
Jim Hanley's Universe
4 West 33rd Street, New York, NY 10001