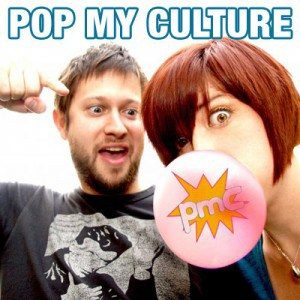 Rob Paulsen, Tara Strong, Cree Summer, and Maurice Lamarche appear on a live edition of the Pop My Culture podcast with hosts Cole Stratton and Vanessa Ragland on Sunday, September 23rd at 5:00p.m. at Five Stars Bar in Los Angeles.
Buy tickets ($5.00) at the link.
Press Release:
Prepare to have your culture popped! Named the #2 Best Comedy Podcast of the Moment by Rolling Stone and to Top 10 lists by IFC.com and Mashable.com, Pop My Culture is a weekly-ish podcast hosted by comedic actors and improvisers Cole Stratton and Vanessa Ragland. Join these two entertainment nerds and their special guests as they discuss movies, music, television, celebrity gossip, etc. without all those pesky "serious" topics like politics, religion and the environment. I mean, you can tune into Fresh Air for that. We'll just tackle the trivial watercooler stuff, ok? Oh, and check out their past episodes on iTunes, popmyculturepodcast.com and on nerdist.com.
For this special live edition at RIOT, Cole and Vanessa are thrilled to welcome some legendary guests that have voiced tons of your favorite cartoon characters, including Rob Paulsen (Animaniacs, Pinky & The Brain, Teenage Mutant Ninja Turtles), Tara Strong (My Little Pony: Friendship is Magic, Teen Titans, Rugrats, The Fairly OddParents), Cree Summer (Inspector Gadget, Tiny Toons, Batman Beyond), Maurice LaMarche (Futurama, Pinky & The Brain) and more to be announced soon!
Five Stars Bar
267 S. Main Street Los Angeles, CA 90012