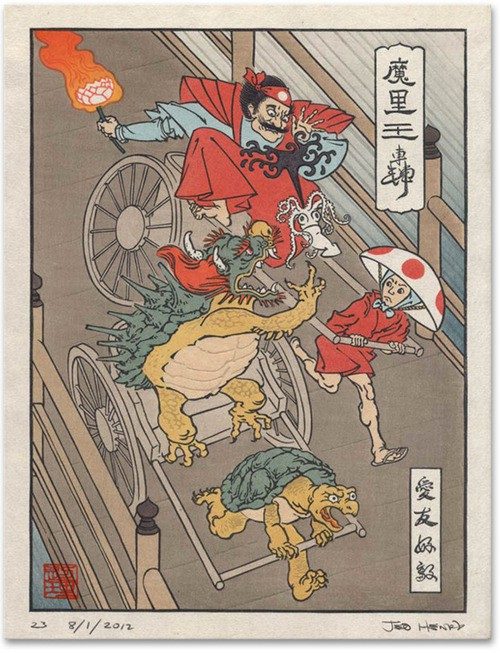 Jed Henry opens a solo exhibition at Gallery Nucleus on Saturday, September 15, 2012 from 7:00PM – 10:00PM.
Press Release:
Japanese wood block prints are a historical art form, combine it subtly with some of the most iconic Nintendo characters and you have a poetic and beautiful amalgamation of visual and pop cultures.
Meet the artist Jed Henry as he will be visiting the gallery from Utah to exhibit some of his latest Ukiyo-e illustrations!
* All Ukiyo-e Hero artwork exhibited will be available as prints for sale.
* Only available to attendees, encounter the real thing – actual woodblock prints of the 'Rickshaw Cart' design will be on sale. (shown above) Very limited stock will be available so be among the first to purchase and take home this signed and sealed work of art hand carved and printed in Japan, by master craftsman David Bull.
* See how woodblock printmaking was done hundreds of years ago. Shot on site in Tokyo, our video documentary will show you the step-by-step process.
* Hear special soundtrack of Nintendo music themes played in traditional Japanese style instruments and styles.
* Refreshments and snacks served.
Gallery Nucleus
210 East Main Street, Alhambra, CA 91801