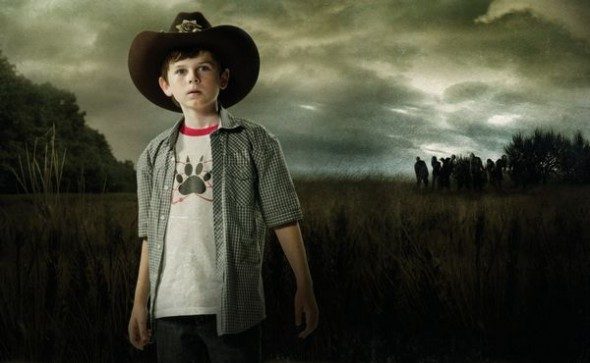 Press Release:
Tampa Bay Comic Con Brings in the Walking Dead
August 14th, 2012 – The Tampa Bay Comic Con will take place on October 20th-21st, 2012!
The Tampa Bay Comic Con is proud to announce that Chandler Riggs, who portrays "Carl Grimes" in AMC's hit TV show, "The Walking Dead" will be at the convention to meet and greet fans! Season 3 of "The Walking Dead" premieres the week before the Tampa Bay Comic Con–episode 2 of season 3 will premiere the same weekend as the October 20-21 convention.
With a large selection of vendors selling comic books, action figures, cards, games, manga and Star Wars items there will be something for everyone. Demand for exhibitor tables that an entire auxiliary room will be used for additional exhibitor space. A great line-up of local writers and artists will be exhibiting their works, selling original artwork and accepting commissions. In addition, an art contest and costume contest will be held for any attendee to participate in and have the chance to win convention cash! Whether you are a collector, aspiring artist, or just want to enjoy the sights that are included in a convention filled with a hodgepodge of costumed heroes (and villains) walking around—chances are that the Tampa Bay Comic Con will make for a fun-filled day with family and friends!
Be sure to arrive early to pick-up a FREE Tampa Bay Comic Con exclusive poster featuring the Dark Knight ready to fight for survival against an oncoming horde of zombies! The poster was created by Ben Templesmith (who will be a guest at the Tampa Bay Comic Con).
The Tampa Bay Comic Con will feature the following industry professionals that attendees are invited to meet, greet, and commission artwork from at the convention:
Chandler Riggs: Actor who portrays "Carl Grimes" in AMC's mega-hit TV show, "The Walking Dead".
C. Martin Croker: Actor who has voiced numerous cartoon characters, most famously "Zorak" and "Moltar" from the cartoon series, "Space Ghost Coast to Coast".
Herb Trimpe: Legendary Marvel Comics artist. Known for extensive work on the Incredible Hulk and the first artist to ever draw Wolverine.
Ben Templesmith: 30 Days of Night artist and nominee for the highly esteemed "Eisner Award".
Marilyn Ghigliotti: Actress who portrayed "Veronica" in Kevin Smith's film, "Clerks".
Joe Murray: Artist, cartoonist and writer known for creating Nickelodeon's hit cartoon show Rocko's Modern Life and Camp Lazlo.
Jim Fern: Artist with credits at Marvel Comics, DC Comics and Vertigo including such titles as the Amazing Spider-Man, Fables and Midnight Crossing.
S.L. Gallant: Artist known for his work on G.I. Joe and Marvel Adventure Avengers.
For travel and hotel reservation information, visit: http://www.tampabaycomiccon.com/hotel_travel.html
The Tamp Bay Comic Con will be on October 20th-21st, 2012 at the Doubletree Hotel. Admission is $10 for adults and admission is FREE for children (12 and under). Parking isFREE.
Doubletree Hotel
4500 West Cypress Street
Tampa, FL 33607
Please e-mail: inquiries@tampabaycomiccon.com
www.tampabaycomiccon.com