Press Release:
Lady Death INVADES Wizard World Chicago 2012
Show Exclusives and Appearance by Lady Death herself!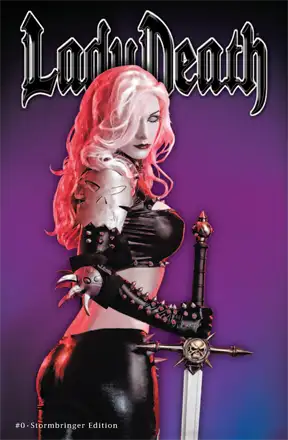 SCOTTSDALE, AZ (August 2, 2012) – Coffin Comics announced today that Lady Death creator Brian Pulido will appear at the upcoming Wizard World Chicago 2012 convention, taking place August 9-12, 2012 in Chicago, Illinois.  Several new, con-exclusive Lady Death editions and prints will be available.
The highlight for the show is Lady Death #0: Stormbringer Edition, with model Freddie Nova posing as Lady Death on the front cover. This special edition has a limited print run of just 99 serially numbered copies worldwide. "Wizard World Chicago will be ground zero for Lady Death fans," said Lady Death creator Brian Pulido. "I'm so stoked to return! It's like a homecoming!"
Other exclusives include Lady Death: Judgment War #1 Crystal Edition (enhanced with actual Swarovski crystals, limited to 77 serially numbered copies), and Lady Death: Icon #1 Censored Edition (printed on heavy-duty Strathmore cover stock, limited to 69 serially numbered copies). Two full-color, 11×17" Lady Death prints will also be available – Lady Death: Gargoyle and Lady Death: Sacred Heart (limited to 200 prints each).
Lady Death creator Brian Pulido will be at Wizard World Chicago 2012 (Booth #4126 in Artist Alley) the entire show and will be available for signing. Stormbringer model Freddie Nova will also be making an appearance as Lady Death on Saturday from 2:00-4:00 PM and will be available for pictures. In addition, an all-new, SECRET convention-only exclusive will be unveiled at the con!
Pricing and Availability
In addition to con availability, preorders on all exclusives are currently being accepted on a first come, first serve basis at www.CoffinComicsShop.com. Pricing is $15.00 for Stormbringer, $40.00 for Crystal and $40.00 for Censored. Gargoyle and Sacred Heart 11×17" prints are $15.00 each. All exclusives ship starting August 15, 2012.
About Coffin Comics
Coffin Comics is a boutique publishing company, founded in September 2007, owned and operated by Chaos! Comics founder and Lady Death creator Brian Pulido. Coffin is dedicated to creating authentically rare, hand crafted limited edition comic books and assorted items for the discerning collector. For more info, please visitwww.CoffinComicsShop.com.