Press Release:
LOS ANGELES COMIC BOOK AND SCIENCE FICTION CONVENTION PRESENTS TRACY SCOGGINS (BABYLON 5), ARLENE MARTEL (STAR TREK), MARTA KRISTEN (LOST IN SPACE), JULIE ADAMS (CREATURE FROM THE BLACK LAGOON) RIKKI SIMONS (INVADER ZIM) APPEARING AUGUST 19, 2012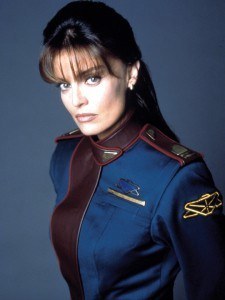 Los Angeles, CA-July 24, 2012-The LOS ANGELES COMIC BOOK AND SCIENCE FICTION CONVENTION presents The Women of Science Fiction Television and Film featuring Special Guests appearing at the AUGUST 19, 2012 show to sign autographs:
TRACY SCOGGINS starred as Capt. Elizabeth Lochley in Babylon 5 and Crusade as well as the films Babylon 5: The River of Souls, Babylon 5: A Call To Arms, and Babylon 5: The Lost Tales. TRACY was Cassandra in Highlander The Series, starred as Cat Grant in nineteen episodes of Lois and Clark: The New Adventures of Superman, Gilora Rijal in an episode of Star Trek: Deep Space Nine, and Marie-Diane in The Secret Adventures of Jules Verne.
ARLENE MARTEL starred in the classic Star Trek episode Amok Time as T'Pring who is bethrothed from childhood to be the future wife of Spock in the classic Star Trek episode Amok Time. ARLENE starred in the classic Outer Limits episode Demon with a Glass Hand and in two classic Twilight Zone episodes What You Need and Twenty Two.
MARTA KRISTEN starred as Judy Robinson in the Lost in Space Television series and Battle Beyond The Stars Movie.
JULIE ADAMS starred as Kay Lawrence in one of the most popular and iconic Science Fiction Movies of the 1950's, Creature From The Black Lagoon. JULIE also guest starred in many Television series such as Kolchak: The Night Stalker, One Step Beyond, Alfred Hitchcock Presents, Rod Serling's Night Gallery, and The Incredible Hulk. JULIE is making an encore appearance at the Convention this year and will be signing copies of her book The Lucky Southern Star: Reflections From The Black Lagoon.
Also appearing will be Animator/Artist RIKKI SIMONS, the Voice of Gir, Bloaty and Mongo in the Nickelodeon animated series Invader Zim. RIKKI and his wife TAVISHA have co-created together many graphic novels such as Super Information Hijinks: Reality Check, Ranklechick and His Three Legged-Cat and Shutterbox. A free DVD of the short independent Horror Film Dead Kansas will be given away while supplies last.
The LOS ANGELES COMIC BOOK AND SCIENCE FICTION CONVENTION is the real deal with an incredible track record serving the Comic Book Collecting community for 35 years. REGULAR ADMISSION is only $8.00, five years and under are free. EARLY ADMISSION is only $12.00. Show Hours are 10:00 A.M.-5:00 P.M. The August 19, 2012 Convention is located at the Shrine Auditorium Expo Center, 700 West 32nd Street, in Los Angeles, CA (across from USC College). The Dealers Room features over one hundred tables of Comic Books, Toys, Trading Cards, DVDs, and many other Collectibles. Check www.comicbookscifi.com for more information on the signing times for all Guests.