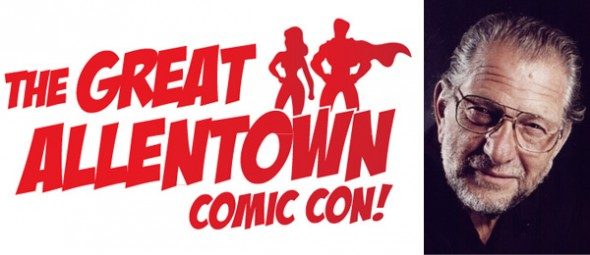 Press Release:
GACC ANNOUNCES PANEL AND EVENT SCHEDULE FOR AUGUST 4-5TH SUMMER MEGA SHOW!
Star Wars actors Jeremy Bulloch and Dickey Beer, Kung Fu legend Jim Kelly, former Power Ranger Jason David Frank, and comics legend Joe Kubert are just some of the great guests attendees can see during panels at The Great Allentown Comic Con's SUMMER MEGA SHOW event in August!
The Great Allentown Comic Con presents the 2012 SUMMER MEGA SHOW Panel schedule, and a packed show room with 100 tables of artists and dealers, this show is the largest "little con" in eastern PA. All panels will run approximately 1 hour, and many will include multimedia presentations and interactions with attendees as well as prizes! In addition to the panels below attendees can still expect Door Prizes at 11:30, 2:45 and 5pm both days.
Show Schedule: Saturday
10:00 AM – Show Opens!
11:30 AM – Joe Kubert Draws! (Panel Room 1)
Have you ever wished you could attend The Joe Kubert School of Cartooning and Design? Well now is your chance! Join legendary artist and creator Joe Kubert during a panel that is sure to amaze! Added Bonus – enter to win the original artwork that Joe creates and help support children's cancer charity The Tomorrow's Children's Fund.
11:30 AM – Webcomics Panel (Panel Room 2)
Join Webcomics Alliance members Dawn Griffin and Chris Flick, as well as other great web comic artists, as they discuss just what goes into creating a successful online webcomic.
11:30 AM – Door Prize announced
1:30 PM – Mandalorian Mercs Star Wars Trivia Contest! (Panel Room 1)
Do you know how many parsecs it took the Millennium Falcon to finish the Kessel Run? How many meters long is a womp rat?….What is a womp rat anyway? If you can answer these questions than be sure to come to this Trivia contest…and Win some great prizes!
1:30 PM – Kung Fu Legends Panel (Panel Room 2)
Join Enter The Dragon star Jim Kelly, and renowned film author Ric Meyers as they discuss the history of Kung Fu films in America. Learn the untold stories about the creation of iconic characters and the influence on Pop Culture over the last few decades!
2:45 PM – Door Prize announced
3:00 PM – Costume Contest! (Panel Room 1)
This one is easy…show up in a costume! Just think…Halloween could come twice this year! Did we mention that anyone in costume gets $2 off admission at the door? Hosted and Judged by Retro Con's very own "Baroness" Rosemary Ward and Tony R. Tuski!
3:30 PM – Pretending to be on TV with Glen Tickle Panel (Panel Room 2)
Comedian Glen Tickle hosts a "late night" style show with attitude. Glen will interview and get to the bottom of this whole "Comic Con" thing.
4:00 PM How to "shoot" a Movie without getting Shot! (Panel Room 1) Filmmaker Chris R. Notarile gives tips on how to cost effectively "shoot" a movie in a major city without being shot yourself or being incarcerated.
5:00 PM – Door Prize announced
6:00 PM – Showroom Closes
8:30 PM AFTERPARTY! at on AMF Parkway Lanes in Allentown, (sponsored by HIGH EVOLUTION STUDIOS!)
Show Schedule: Sunday
10:00 AM – Show Opens!
11:30 AM – JK Woodward (Panel Room 1)
Join the artist behind Fallen Angel, and IDW's current Doctor Who series. Learn just what goes into the creative process for JK Woodward one of the comic industries most talented artists and the creator of our booklet cover!
11:30 AM – How to Draw Disney Panel (Panel Room 2)
Former Disney Animator Terry Naughton has influenced and worked on many of the classic Disney films of the last 3 decades. Aladdin, The Little Mermaid, and Beauty and the Beast are just a few of the things he has done. Currently he has done the artwork for Peter and Angie Mayhew's children's novels and has his own book out "The Art of Terry Naughton"
11:30 AM – Door Prize announced
1:00 PM – Star Wars Boba Fett Fest! (Panel Room 1) Join Jeremy Bulloch and Dickey Beer as they discuss working in one of the most iconic and celebrated franchises in history…and what it means to be the best Bounty Hunter in the Galaxy. With some great stories, and possible spoilers? On upcoming events…this is a can't miss panel for true fans of Star Wars!
1:00 PM – TRON! (Panel Room 2)
Meet TRON and Caddyshack Actress Cindy Morgan as she talks about being part of two film classics!
1:00 PM Mighty Morphin' Time! (Panel Room 3)- Join Jason David Frank (aka Tommy Oliver) as he performs some signature moves and demonstrates just what it takes to be a Power Ranger! Being hosted by Danzan Ryu studio on the second floor, be sure to say hello to Sensei Steve Huegel and his students who have volunteered to assist Jason!
2:45 PM – Door Prize announced
3:00 PM – Kubert School Panel (Panel Room 1)
Join Kubert School instructors and past alums as they discuss "The Kubert Way" and just how the school helps artists improve their talents.
3:00 PM – Captain Action Panel (Panel Room 2)
Join artist Matt Triano as he discusses working on one of the hottest retro properties around…Captain Action's Action Boy!
3:00 PM – Thor Statue Bust Winner Announced
4:30 PM – Door Prizes & Raffle Winners! – Be sure to make it back into the main showroom where the Charity artwork winner will be drawn, and the final group of door prizes for the day will be given out…Busts, Trades, Comics and Toys…what will you win?
5:00 PM – Show Close…see you in November!
*All times are approximate, and may change at last minute.
About The Great Allentown Comic Con! – The Only Comic, Sci-Fi and Pop-Culture Convention in the Lehigh Valley. Founded in 2010, by Riverside Comics; The Great Allentown Comic Con (GACC) is already one of the fastest growing Fan-focused events in the comics industry. Currently located in the 10,000 sq ft Showroom of the Merchants Square Mall in Allentown PA, the GACC is dedicated to producing celebrations of comics and popular culture by providing unique access to talented artists and a family-friendly experience for fans. The show motto "Get UR Geek On!" represents in part the recognition of the diverse and unique nature of our fans, and our commitment to providing events where they can come express themselves freely.