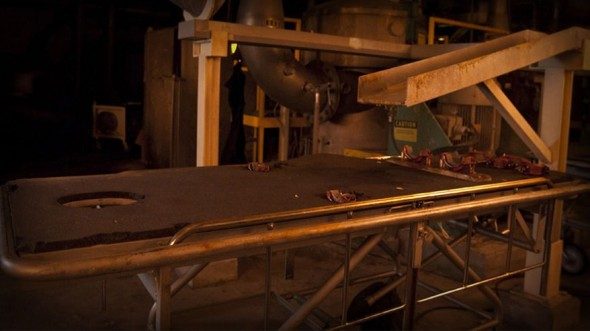 Press Release:
TNT and Dark Horse Comics Partner to Create Falling Skies Activation at San Diego Comic-Con
TNT's Falling Skies has partnered with Dark Horse Comics for a promotional activation to take place at San Diego Comic-Con. The epic series, which ranked as basic cable's #1 new series of last year, will have a designated portion at the Dark Horse booth Thursday, July 12–Sunday, July 15 at the San Diego Convention Center that will bring fans into the inner circle of the alien invasion.
Recreating the Harness Factory that was revealed in this season's fourth episode, which aired July 2 on TNT, theFalling Skies Comic-Con activation will give fans the opportunity to experience what it is like to be harnessed by the mysterious alien creatures. The interactive photo experience will capture the "scream shot" right before the alien harness is about to strike. Participants will be able to retrieve and share their photos via social media at http://fallingskies.com/discover/comic-con. Everyone that escapes the harness factory will also receive a special premium to represent the glowing spikes of the formerly harnessed, just like in the show. Fans can visit the Dark Horse activation in booth number 2615 to participate in the action.
In addition, TNT announced last week that the Second Mass resistance is returning to San Diego Comic-Con with a panel and exclusive look at what is ahead for the rest of this season. Moderated by Wil Wheaton (Star Trek, Leverage), series stars Noah Wyle (ER), Moon Bloodgood (Terminator Salvation), Will Patton (Armageddon),Drew Roy (Secretariat), Connor Jessup (The Saddle Club), Colin Cunningham (Living in Your Car), Sarah Carter(Shark) and executive producer Remi Aubuchon (24, Persons Unknown) will participate in the panel session onFriday, July 13, at 4:30 p.m. PT in room 6BCF at the San Diego Convention Center. An autograph signing will follow at the Dark Horse booth at 6 p.m. (PT).
Falling Skies, currently in the midst of its second season, chronicles the devastating aftermath of an alien a ttack that has left most of the world completely incapacitated. In the nine months since the initial invasion, the few remaining survivors have banded together outside major cities to begin the difficult task of fighting back. Each day is a test of survival as citizen soldiers work to protect the people in their care while also engaging in an insurgency campaign against the occupying alien force, whose nature and purpose remains a mystery. Falling Skies airs on TNT on Sundays at 9 p.m. (ET/PT).
Falling Skies comes to TNT from DreamWorks Television and is executive-produced by St even Spielberg and DreamWorks Television heads Justin Falvey and Darryl Frank. Robert Rodat, Remi Aubuchon and Greg Beemanare also executive producers. Fans can find the latest Falling Skies news online at http://fallingskies.comand via twitter http://twitter.com/FallingSkiesTNT.
In its debut season last summer, TNT's Falling Skies topped the charts as basic cable's #1 new series of 2011. This year, the show is off to a strong start, averaging 5.9 million viewers in Live + 7. It has also scored 2.7 million adults 18-49 and 3.1 million adults 25-54, ranking it behind TNT's Dallas as basic cable's #2 summer drama with key adult demos. On the international front, Falling Skies premiered in more than 115 global markets last year, achieving hit status in the United Kingdom, Australia and Latin America, among others. Last year's premiere ofFalling Skies also ranked as the biggest series launch ever for TNT networks in Spain, Germany and Austria.
About TNT
TNT, one of cable's top-rated networks, is television's destination for drama. Seen in 99 million households, TNT is home to such original drama series as The Closer, Rizzoli & Isles, Dallas, Falling Skies, Perception, Franklin & Bash, Leverage, Southland and the upcoming Major Crimes and Monday Mornings. The network also features dramatic unscripted originals like this summer's The Great Escape and the upcoming Boston Blue (working title) and 72 Hours (working title). In addition, TNT is the cable home to popular dramas like The Mentalist, Bones, Supernatural, Las Vegas, Law & Order and Castle, which starts this year; primetime specials, such as the Screen Actors Guild Awards®; blockbuster movies; and championship sports coverage, including NASCAR, the NBA and the NCAA Division I Men's Basketball Championship.
Turner Broadcasting System, Inc., a Time Warner company, creates and programs branded news, entertainment, animation and young adult media environments on television and other platforms for consumers around the world.