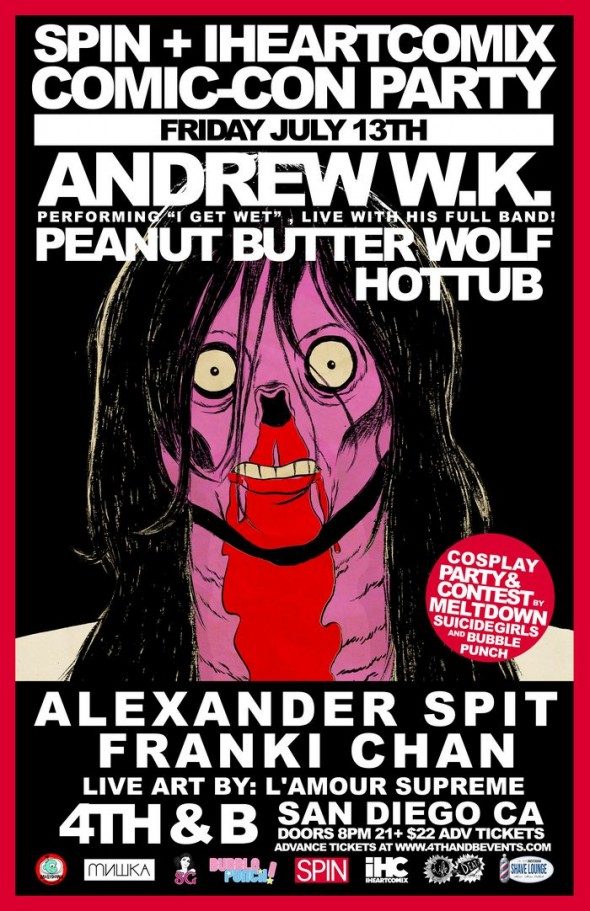 Via IHEARTCOMIX:
On July 13th, IHEARTCOMIX will be partnering up with SPIN for our annual Comic Con International takeover. Once again, we will be bringing down all our friends to come Party Hard with us, this time at 4th & B. As you may have already guessed, the party ambassador, Andrew W.K., will be bringing his whole band down with us to perform, I Get Wet, live in its entirety. Additionally, Stones Throw Records boss, Peanut Butter Wolf, will be joining us for a special live a/v set; while Hottub and Alexander Spit will be on hand to slay the mic. If all that wasn't enough; Meltdown, Bubble Punch, and Suicide Girls will also be hosting a Cosplay competition, making this your one stop destination to party hard!!! Don't miss out San Diego, Comic Con is about to get wild.
Tickets are available for purchase from 4th & B, but Convention Scene is going to give two people a chance to win a pair right now!
Fill out the form below before 8 AM EST on Wednesday, July 11th, and two lucky winners will have his or her name plus one added to the guest list. Must be 21 or over and present valid ID for admission. Your submission information will not be used beyond this contest. You are responsible for all other costs (e.g., transportation).
UPDATE: Congratulations to Gabriella Almanza and Darrin Fesperman for winning pairs of tickets and thank you to all who entered.