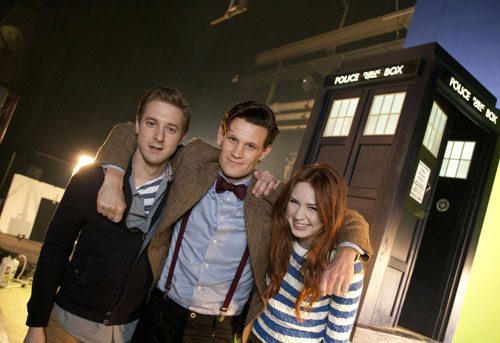 Press Release:
BBC AMERICA RETURNS TO COMIC-CON WITH DOCTOR WHO PANEL IN HALL H, SIGNINGS AND EXCLUSIVE MERCHANDISE AT THE BBC AMERICA BOOTH #3629
The Nerdist's Chris Hardwick to moderate Doctor Who panel with Matt Smith, Karen Gillan, Arthur Darvill, Caroline Skinner and Steven Moffat
BBC AMERICA to Premiere a Comic-Con Edition of The Nerdist on July 28
BBC AMERICA's (@BBCAMERICA) Doctor Who stars Matt Smith and Karen Gillan make their triumphant return to Comic-Con for a panel and Q&A moderated by Doctor Who pundit and creator of the Nerdist, Chris Hardwick. They will be joined by star Arthur Darvill, who's making his first pilgrimage to SDCC, along with award-winning lead writer and executive producer Steven Moffat (Sherlock) and award-winning executive producer Caroline Skinner (The Fades). As fans eagerly await the new season's premiere, BBC AMERICA has learned that Steven Moffat and team will be bringing something very special with them to reveal to fans in Hall H.
Doctor Who follows the adventures of the Doctor, the mysterious traveler who journeys through all of time and space, picking up companions along the way and almost always sidestepping danger. The iconic sci-fi series stars Matt Smith as the Doctor and Karen Gillan and Arthur Darvill as his companions, Amy Pond and Rory Williams, aka The Ponds. Last season delivered record ratings for BBC AMERICA and marked the first time Doctor Who filmed on American soil. Its finale ended with the the Doctor's greatest escape yet and the intimation of an even greater reckoning to come. Ahead of the new season, BBC AMERICA will premiere new Doctor Who specials – The Science of Doctor Who, The Women of Doctor Who, The Timey-Wimey Stuff of Doctor Who, and The Destinations of Doctor Who – as part of the Supernatural Saturday programming block starting Saturday, August 4, 9:00pm ET/PT.
As well as the Hall H panel, Doctor Who's Matt Smith will appear on TV Guide's Fan Favorites panel on Saturday, July 14, 1:00-2:00pm in the Indigo Ballroom at the Hilton San Diego Bayfront hotel.
THE NERDIST CELEBRATES COMIC-CON ON BBC AMERICA
New world premiere specials of BBC AMERICA's The Nerdist kick off with two back-to-back programs on Saturday, July 28 – The Nerdist: Comic-Con at 9:00pm ET/PT and The Nerdist: Tribute to Toys & Games at 10:00pm ET/PT. Host Chris Hardwick joins special guests in a comedic roundtable discussion of all the things that nerds love, from pop culture to news, tech trends and more. In The Nerdist: Comic-Con, Hardwick and his crack team of nerd experts do their best to piece together what happened at this year's Comic-Con. From cosplayers and blockbuster films to new TV shows and video games, this episode has it all. Even comic books. In The Nerdist: Tribute to Toys & Games, Chris and co-hosts Jonah Ray and Matt Mira talk about the nerdiest toys, collectibles and games.
The Nerdist continues in August with premieres of The Nerdist: Tribute to Science on Saturday, August 4, 10:00pm ET/PT. In The Nerdist: Tribute to Nerd Girls on Saturday, August 11, 10:00pm ET/PT and The Nerdist: Tribute to Time Travel featuring COPPER's Tom Weston-Jones, premiering Saturday August 18, 10:00pm ET/PT.
THE BBC AMERICA BOOTH (#3629)
Fans of Doctor Who will find an assortment of contemporary and classic licensed merchandise at Comic-Con, available at the BBC AMERICA booth, in addition to officially licensed Doctor Who Partners' booths. The BBC AMERICA booth will also offer fans several product launch exclusives including: bobble heads, a lunchbox with travel mug and multiple t-shirt styles.
BBC AMERICA COMIC-CON COVERAGE
For Twitter, follow @BBCAMERICA and #DWSDCC, on Tumblr at http://DoctorWho.tumblr.com and http://BBCAmerica.tumblr.com and full Comic-Con coverage by BBCAmerica.com's Anglophenia.
ELEVENTH DOCTOR AND HIS COMPANIONS COSPLAY CONTEST
Fans that want to show off their best Doctor Who costumes are encouraged to enter BBCAmerica.com's Eleventh Doctor and His Companions Cosplay Contest. Entries can be submitted online through Wednesday, July 25. Official rules and details can be found at bbcamerica.com/cosplay.
BBC AMERICA delivers US audiences high-quality, innovative and intelligent programming. Established in 1998, it has been the launch pad for talent embraced by American mainstream pop culture, including Ricky Gervais, Gordon Ramsay, Graham Norton, and successful programming formats including ground-breaking non-scripted television like Top Gear and top-rated science-fiction like Doctor Who. Owned by BBC Worldwide, the commercial arm of the BBC, BBC AMERICA has attracted both critical acclaim and major awards including an Emmy®, five Golden Globes® and ten Peabody Awards. The channel attracts one of cable's most affluent and educated audiences and is available on digital cable and satellite TV in more than 79 million homes. It broadcasts in both standard and high-definition, with content available On Demand across all major digital platforms. Online, www.bbcamerica.com is the place to go to dig deeper into pop culture with a British twist. Find out more by visiting www.press.bbcamerica.com or follow us on www.twitter.com/bbcamerica.