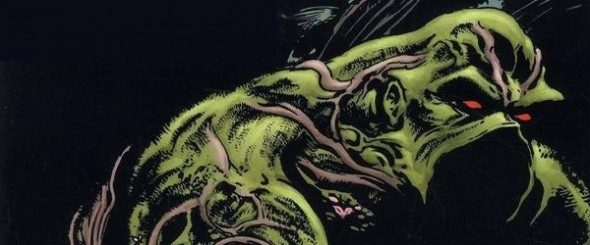 Press Release:
Cincinnati Comic Expo Announces Four Legendary Swamp Thing Artists as Guests of Honor
The Cincinnati Comic Expo is thrilled to announce that four legendary Swamp Thing artists—Tom Yeates, Rick Veitch, John Totleben, and Stephen R. Bissette—will appear, together for the first time, as the Expo's 2012 Guests of Honor.
The Director of the Cincinnati Comic Expo, Andrew Satterfield, said, "I am always looking for opportunities for our fans to meet extraordinary creators. The chance to meet even one of these hugely talented gentlemen is an extremely rare treat. All four in one room is like winning the lottery."
Long-time collaborators Yeates, Veitch, Totleben, and Bissette were part of the 1980s team (along with writer Alan Moore) chosen by DC Comics to revive the comic series, Swamp Thing. Bringing them together as Guests of Honor at the Cincinnati Comics Expo is a reunion of epic proportions—a once in a lifetime opportunity for fans to meet these award-winning artists at the same time.
Their spectacular run on Swamp Thing is historic for several reasons. One, their 1980s run of Saga of the Swamp Thing was the first mainstream comic to write directly for adults. Another history making moment occurred with issue 37, published in 1985, when the well-known character of John Constantine made his first appearance, drawn by Rick Veitch and John Totleben.
The collaborative creativity of Yeates, Veitch, Totleben, and Bissette was so close that they often worked on the same issue of the comic, with one creating the cover art, another doing the pencil work and another the inking. At times, on every other issue, they would swap duties and this really made the comic a group effort.
All 4 will be available to meet fans and sign books at the show. The Cincinnati Comic Expo will also host a panel with all of them on stage to have a collective gathering and discussion on their work and Swamp Thing. More details will come out about that before the show.
Tom Yeates
Tom Yeates has previous work on Prince Valiant and Zorro. Most recently, he also completed work on John Carter of Mars. He has not attended a Midwest convention in over a decade. The Tom Yeates official website is: http://www.thomasyeates.com. Tom will be publicly announced on Monday, June 11, 2012.
Rick Veitch
Rick Veitch has done some work on the Teenage Mutant Ninja Turtles and on the re-launch of Aquaman. The Cincinnati Comic Expo is Rick's first convention appearance in the United States in 10 years. Rick's website is: http://www.rickveitch.com. Rick will be publicly announced on Tuesday, June 12, 2012.
John Totleben
John Totleben is a multi-Kirby Award winner. He was also awarded the Inkpot Award. John also worked on the comic Miracleman and the graphic novel From Hell. John is attending his first major show in nearly 10 years. John will be publicly announced on Wednesday, June 13, 2012.
Stephen R. Bissette
Stephen R. Bissette is also a multi-Kirby Award winner. Stephen is currently best known for his horror work. He was also a member of the first graduating class from the Kubert School along with Yeates and Veitch. Stephen has not appeared at a convention is 15 years. More on Bissette can be found at: http://srbissette.com. Stephen will be publicly announced on Thursday, June 14, 2012.
The Cincinnati Comic Expo was established in 2010 to provide an annual show celebrating all periods and genres of pop culture with an emphasis on comics. The 2012 Cincinnati Comic Expo will be held from Friday, September 21, through Sunday, September 23, at the Duke Energy Convention Center. Tickets vary in price and can be purchased online. More information on events and other artists attending the show can be found at www.cincinnaticomicexpo.com.