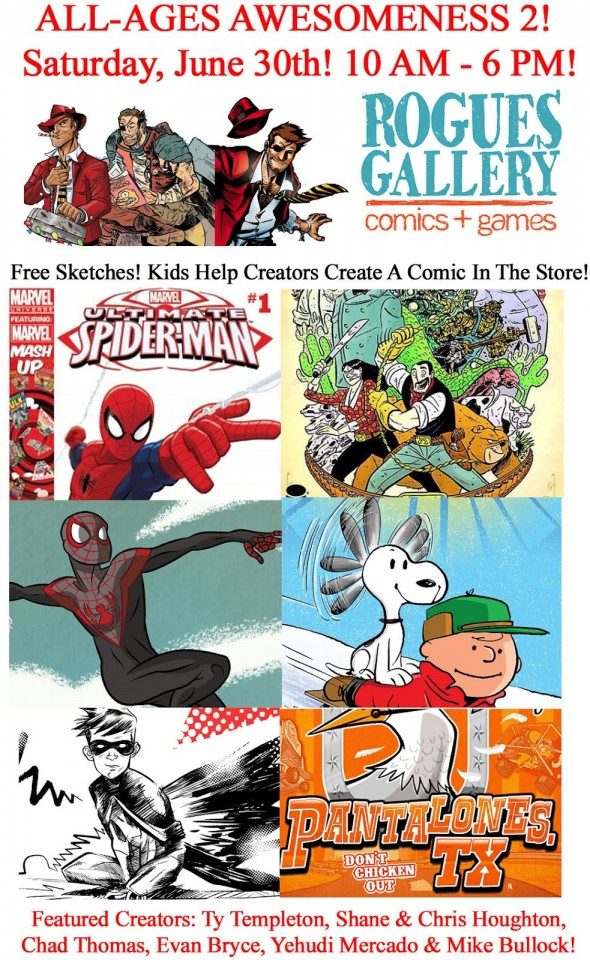 On Saturday, June 30th, Rogues Gallery hosts their second annual all-ages events, featuring a whole bunch of creators who will sketch, sign and talk with kids about making comics! And, for the first time this year, kids will participate in making a comic in the store!
Our guests this year are:
Ty Templeton – Ultimate Spider-Man, Batman Adventures, Superman Adventures, lots more!
Shane & Chris Houghton – Creators of Reed Gunther, Bear-Riding Cowboy, have also worked on Boom! Studios' Peanuts and Adventure Time books!
Chad Thomas – Worked on Archie's Young Salem and Megaman, plus lots more!
Evan Bryce – Wide variety of comics work, art teacher and some of the wildest, coolest color prints in the universe!
Mike Bullock – Writer of hit indy all-ages book Lions, Tigers & Bears!
Yehudi Mercado – Creator of Buffalo Speedway, promoting next year's all-ages Archaia graphic novel Pantalones, TX!
The event will run from 10 AM – 6 PM! Kids will help creators create a comic in store starting at 1 PM! Tell your friends!
Rogues Gallery
1601 S IH-35 #360, Round Rock, TX 78664