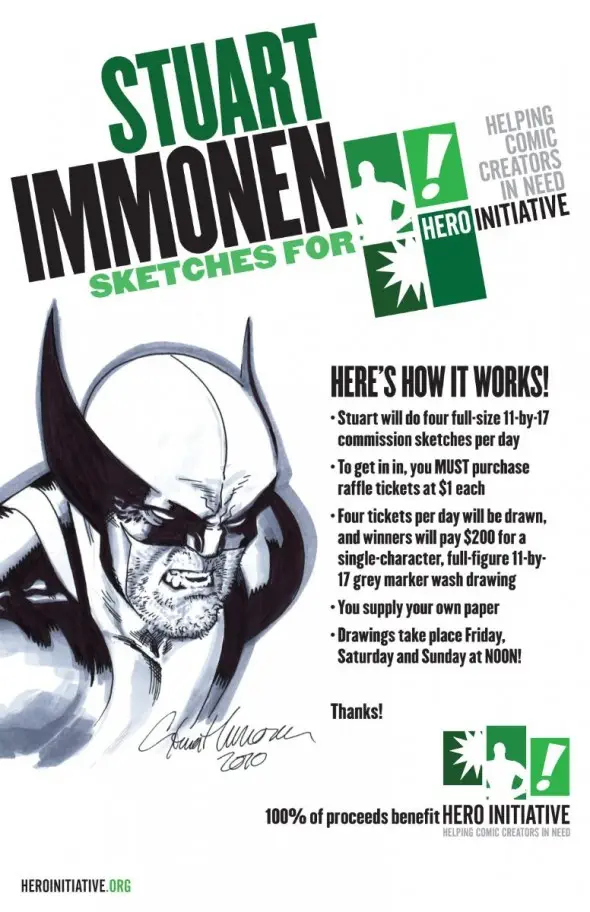 Artist/writer Stuart Immonen (New Avengers, Ultimate Spider-Man) will raffle off four sketches each day of the Phoenix Comicon (Phoenix AZ, May 24 – 27, 2012) to benefit the Hero Initiative. This is a rare opportunity to commission a sketch as Immonen famously declines requests as outlined in his book 50 Reasons to Stop Sketching at Conventions.
Press Release:
Hero Initiative, the non profit organization that helps comic creators in need, is spending its Memorial Day weekend at Phoenix Comic Con, May 24th thru 27th at the Phoenix Convention Center Hyatt Regency, booth #1048-1050.
Artist Stuart Immonen will be helping Hero out at the con! The artist of Marvel Comics' X-Men and Fear Itself will be at his own artist alley table, but sketching ONLY for Hero! Stuart will do four full-size 11-by-17-commission sketches per day. To get in in, you MUST purchase raffle tickets at $1 each. Four tickets per day will be drawn, and winners will pay $200 for a single-character, full-figure grey marker wash drawing. Drawings take place Friday, Saturday and Sunday at noon!
In addition, you MUST buy the Spawn/Lady Death Phoenix Con print with art by Andy Arias and inked by Todd McFarlane! Both McFarlane and Lady Death creator Brian Pulido will sign each print, limited to 250 serial-numbered pieces. All proceeds benefit Hero Initiative.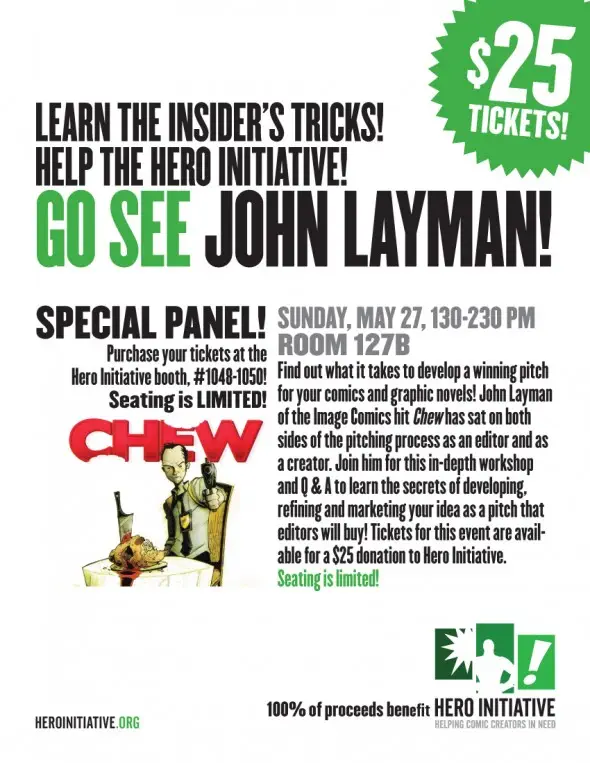 And go see John Layman! Layman, writer of the Image Comics hit Chew, has sat on both sides of the pitching process as an editor and as a creator. He'll be putting on a special panel Sunday, May 27 at 130 p.m. to tell you what it takes to develop a winning pitch for your comics and graphic novels! Tickets to this in-depth workshop and Q&A are available ONLY with a $25 donation to Hero Initiative. Seating is limited!
And Hero's booth schedule at the con is as follows:
Thursday (May 24) con hours 4:00 PM – 9:00 PM
4:00-6:00: Mike Stewart
5:00-6:00: Denae Frazier
6:00-7:00: Ben Glendenning
7:00-8:00: Jason Gonzalez
Friday (May 25) con hours 10:00 AM – 7:00 PM
12:30-1:30: Mike Stewart
1:30-2:30: Marat Mychaels
2:30-4:00: Jason Gonzalez
Saturday (May 26) con hours 10:00 AM – 7:00 PM
12:30-1:30: Mike Stewart
3:00-3:45: JLA 100 signing: Andy Kuhn, Bill Tucci, Chris Moreno, Francis Manapul, George Perez, Marat Mychaels, Mark dos Santos, Ryan Cody, Scott Koblish, Scott Kolins, Stuart Sayger, Tony Parker
Sunday (May 27) con hours 10:00 AM – 5:00 PM
11:30-12:30: Jim Hanna
1:230-1:30: Mike Stewart
1:30-2:30: Jay Fotos
2:30-4:00: Jason Gonzalez
4:00-5:00: Jim Hanna