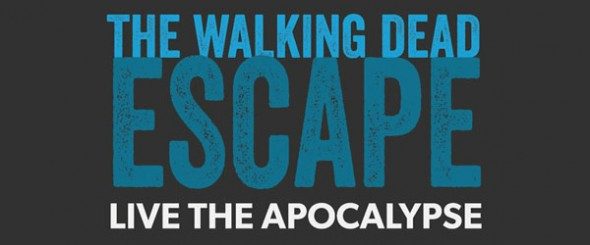 Press Release:
The Walking Dead Escape: San Diego Debuts at Petco Park to Celebrate Robert Kirkman's The Walking Dead Issue #100 During San Diego Comic-Con July 12-15, 2012
Registration for The Walking Dead Escape: San Diego Opens May 16th
San Diego, CA – May 16, 2012 –Robert Kirkman, the creator/writer of The Walking Dead comic book series and graphic novels and www.Skybound.com announce their first event, The Walking Dead Escape: San Diego.  In conjunction with the release of the Eisner Award-winning The Walking DeadIssue #100 at San Diego Comic-Con, the event takes place July 12 -15 at Petco Park, centrally located near the San Diego Convention Center. Registration is now open at TheWalkingDeadEscape.Com. There are three ways to participate in this epic adventure. Participants can be a Survivor and race through the zombie infested evacuation zone; a Walker who becomes one of the undead, embracing the inevitable; or a Spectator who watches the apocalypse from sidelines at the Escape Party.
The Walking Dead Escape: San Diego is unlike any obstacle course event in the U.S., expanding on the best-selling The Walking Dead comic book series and graphic novel storylines, allowing Survivors and Walkers to explore the initial days of the apocalypse.
"Our fans have been reading about it, watching it and now they get to live it with The Walking Dead Escape," said Robert Kirkman. "We are literally transforming Petco Park into the early days of society's collapse and San Diego is just the first city to fall."
Survivors will climb, crawl and slide in an effort to avoid confrontation by hordes of Walkers, while achieving the ultimate adventure on The Walking Dead-themed obstacle course. The Walking Dead Escape is not a race, and Survivors are not timed, but the end is near, and they must move swiftly. If they're lucky, Survivors will reach the decontamination zone at the end where it will be determined if they have been infected.
Whether taking part in the event as a Survivor, Walker or Spectator, participants will be amazed at the interactive displays and The Walking Deadreferences along the course. Early registration is strongly recommended, as walk-ups may not be available on event day.  This summer, The Walking Deadwill be taking over Petco Park and fans will have a front row seat to the real-life action event of a lifetime.
For more information or to register for this event, please visit www.thewalkingdeadescape.com or www.Skybound.com.