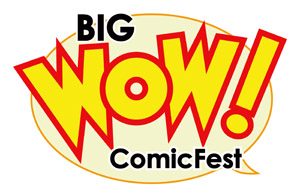 Press Release:
With less than one month until the Show, Big WOW! ComicFest continues to expand their already amazing Guest List by adding comic artists Ron Lim and Mike Choi to Artist Alley. "We're excited to have both Ron Lim and Mike Choi attend this year's ComicFest," said Convention Director Steve Wyatt. "We're also trying to line up a few more surprise Guests so expect more special announcements in the next few weeks!"
Big Wow! ComicFest Returns to San Jose on May 19th & 20th, 2012, bringing two great days of Comic Book, Anime/Manga, Art, Sci-Fi, Fantasy, Gaming and Cosplay FUN! Many of the country's best vendors of all things cool and collectible will tempt your wallets with the perfect gifts for Geek, Fans and True Collectors, everywhere!
As the Original Artist-Friendly Show, Big WOW! ComicFest has Fantastic Comic Book Creator Guests spanning all decades and genres! This year we are pleased to welcome as our Featured Guests: Jim Lee (X-Men, Batman & DC Comics VP), Toshio Madea (Urotsukidoji and La Blue Girl), Juanjo Guarnido (Blacksad), Legendary Illustrator Bernie Wrightson (Swamp Thing, Heavy Metal & Frankenstein), Vampire Horror Author Steve Niles, creator of 30 Days Of Night, Fan-Favorites Travis Charest (Weapons of the Metabarons), Kevin Nowlan (Superman Vs. Aliens), and more Special Guests including: Dan Brereton (Nocturnals), Bob Layton (Iron Man, Avengers), Tim Bradstreet (The Punisher), Joe Linsner (Dawn), Bill Morrison, Alex Nino, Sergio Aragones, Liam Sharp, Frank Cho, Joe Jusko, Michael Golden, Mark Texiera, Michael Lark, Tim Sale, Brandon Peterson and many more confirmed and added to our website!
Also Appearing as Special Celebrity Guests will be: Actor, writer, and producer Thomas Jane, star of "The Punisher" film and the HBO favorite series "Hung", is also the author of the comic book series Bad Planet!. Jane Wiedlin, the charismatic guitar player for The GoGos! Jane is back at work, having just wrote a new story for the 2011 Simpsons Tree House of Horror comic book, and her own series (starring Jane herself) Lady Robotika. Olivia d'Abo. Star of "The Wonder Years", "Conan the Destroyer" and voice actress for "Star Wars: Clone Wars", "Green Lantern", "Justice League Doom" and "The Avengers". She is best known on TV for her role in "Law & Order: Criminal Intent" as Nicole Wallace. Terrance Zdunich, co-creator and star of the Cult Classic … "Repo: the Genetic Opera". We will also be showing a Free viewing of the film with a live Shadow Cast on Sat. night for the 1st 500 fans, with a Q/A afterward with Terrance. Also appearing will be Sandahl Bergman (Conan the Barbarian, Red Sonja, All That Jazz, Airplane ll and "Chicago" on Broadway), C. Andrew Nelson (Darth Vader), Kathy Garver (Cissy on "Family Affair"), Jon Provost (Timmy on TV's "Lassie" show) and more.
Don't miss this rare opportunity to see professional comic artists at work as well! There will also be a Live Art demonstration going on all weekend, on stage by James O'Barr (Creator of "The Crow"), and many of our invited Guests.
In conjunction with San Francisco's Cartoon Art Museum, Big Wow! ComicFest proudly presents "The Avengers: Earth's Mightiest Art Show!" Featuring Five Decades of Original Art and Memorabilia from the Marvel Comics world-famous group of greatest superheroes and latest movie stars.
– BUY TICKETS EARLY FOR A DISCOUNTED PRICE –