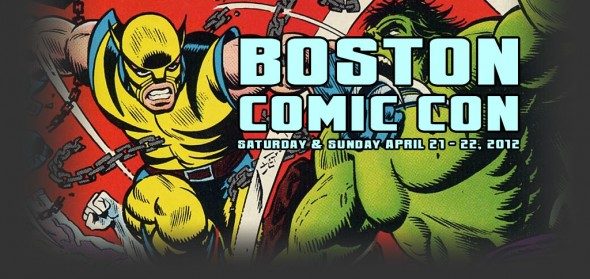 Below is a listing of all the table assignments for both guests and artist alley at Boston Comic Con 2012! List is alphabetical by last name. Please note that the list is subject to change without notice:
AGOSTI, ANDREA AA705
AMARU, GEORGE AA507
AMBRUSON, SCOTT AAW37
ANDREWS, ROGER AA308 END CAP
ARCHER, KENT AA412
AUCOIN, MATT AA313 W/ FOLTZ, HOLLY
BAGGE, PETER DD1201 END
BARNES, E J AA213 DROWNED TOWN PRESS
BARRETT, NOAH AAH14
BARROWS, BRANDON AA304
BASTARD, KEN AAW35
BASTIEN, JEREMY AAW04
BELIARD, GEORGE AAH13 MARVEL COMICS, PORTFOLIO REVIEWS
BENITEZ, JOE AAW11
BERRY, MATTHEW AA511 MATTMAN: DINOSUAR HUNTER
BESSETTE, MATTHEW AAH03 1725 STUDIOS
BISLEY, SIMON* DD1127
BLUMENTHAL, ZIGGY AA214 W/ FAKEMCOY COMICS, HARRIS, CORY, SMOLEY, BRAD
BRENNAN, MEGAN AA706 BEST PEST STUDIO
BROOKS, MARK AAW12
BRUNO, FRANCES AA713 GRAVEYARD SHIFT PRESS
BUCHNER, CHRIS AA608 GUILD WORK PUBLICATIONS END CAP
BUCHNER, CHRIS AA609 GUILD WORK PUBLICATIONS END CAP
BURNS, JEFF AAH10
BUSCEMA, STEPHANIE AA102 FRONT CAP
CAIN, ANNE AAH15
CALDWELL, TALENT AAW25
CALIFIORE, JIM AAW24
CANETE, ERIC AAW08 ESSENTIAL SEQUENTIAL
CAPITUMINI, DAN AA611
CARDINAL, JOHN AA510 W/ CROCKETT, MICHAEL, HOULE, ANDREW END CAP
CASEY, JASON AA107
CHA. KEU AAW16 MORE GREAT ART
CHEN, JO AA101 FRONT CAP
CHEUNG, JIM* AAW14
CHIANG, CLIFF DD1202 END
CHURCH, KEVIN AA103 AGREEABLE COMICS
CLOONAN, BECKY VENDOR
COHN,SCOTT AA503
COKER, JR, PAUL DD1125 MAD MAGAZINE
CONNOLLY, BRIAN AA715 KELLEY, PATT
COOK, ASHLEY AA108 W/ CORMACK, ALEX
COOKE, KATIE AAW03
CORMACK, ALEX AA108 W/ COOK, ASHLEY
COSTELLO, SAM AA109
COWAN, DOUG AA512 W/ MCCORMACK, CLAY
CRAIN, CLAYTON DD1203 END
CROCKETT, MICHAEL AA509 W. HOULE, ANDREW, CARDINAL, JOHN END CAP
DAHL, JOSHUA AA614 MONOLITH
DARROW, GEOFF AAW28
DAXBERGER, JOE AA806 W/ SEDANI, T THE DRAW BOX
DE LIZ, RENAE DD1132 END VENDOR
DELLAGATTA, JOE AA603
DELQUADRO, ANDREW AA807 215 INK
DEZAGO, TODD AA801 W/ RICH WOODALL FRONT CAP
DINNALL, OLIVIA AA506 W. LANE,LINDA
DOHERTY, MIKE AAH11 DRISCOLL, ANDY
DOONEY, MICHAEL DD1121
DORT, TJ AA516 W/ HALEY, JOE UNDERBURBS
DOS SANTOS, MARC AA903
DOYLE, MING AA104
DRISCOLL, ANDY AAH11 DOHERTY, MIKE
EASTMAN, KEVIN * DD1126
EATON, KEVIN AA814 W/ EDGE, ANDREW, COOL MONKEY PRESS
EDGE, ANDREW AA814 W/ EATON, KEVIN COOL MONKEY PRESS
EINHAUS, KURT AA610
ELLIOT, DAVE AAH04
EPTING, STEVE * AA201 FRONT CAP
FAERBER, LOGAN AA203 MACLEAN, ANDREW
FALK, ELIZABETH Vendor
FALKENBERG, JOSHUA AA406 SEVERED HEAD COMICS
FELICIANO, CEASAR AA314 W/ MULVEY, JOE
FELDSTEIN, AL DD1122 MAD MAGAZINE
FELDSTEIN, AL DD1123 MAD MAGAZINE
FINN, TIM AA404
FISHER GW AA908
FLETCHER, MATTHEW DD1402 END VENDOR
FOLTZ, HOLLY AA313 W/AUCOIN, MATT
FRAMINGHAM STATE UNIVERSITY ILLUSTRATION AA709 END CAP
FRAMINGHAM STATE UNIVERSITY ILLUSTRATION AA710 END CAP
GARBOWSKA, AGNES AA301 FRONT CAP
GIUFFRIDA, ALICIA AA212
GLEASON, KEITH AA204 RECKLESS SIDEKICK PRODUCTIONS
GOLDEN, MICHAEL DD1103 END
GORDON, MICHAEL AA505 NEW LEGEND PRODUCTIONS
GOVAR, DANIEL AAW13
HALEY, JOE AA516 W/ DORT, TJ, UNDERBURBS
HALL, THOMAS AAH16 BLACKLIST STUDIOS
HAMILTON, SCOTT AAH01 HAMILTOONS
HANSCHE, NICOLE AA605
HARRIS, CORY AA214 W/ FAKEMCOY COMICS, HARRIS, CORY, SMOLEY, BRAD
HEBERT, ALAN AA714 HB COMICS
HENDERSON, ERICA AA105
HiLL, THOMAS AAH16 BLACKLIST STUDIOS
HORN, GREG AAW21
HORN, GREG AAW22
HOULE, ANDREW AA509 W/ CARDINAL, JOHN, CROCKETT, MICHAEL END CAP
HRANEK, MICHAEL AA809 AELHRA, aelhra END CAP
HUGHES, JOHN AA907
IGLE, JAMAL DD1303 END
JAFFE , AL DD1124 MAD MAGAZINE
JAMES, TYLER AA115
JEANNOTTE, ROB AA812 FIVE AND DIME PRODUCTIONS
JIMENEZ, SANDY AAH08
KASPER, SEAN AA408
KELLEY, PATT AA715 W/ CONNOLLY, BRIAN
KELLY,KEN AAW19
KELLY,KEN AAW20
KENNEDY, JAY AA712 W/ NICOLS, IAN FAT CAT FUNNIES
KHANNA, DAN AA513
KONG, BRIAN AA909 END CAP
KREZEMIENSKI , JOSEPH AA206 THE FICTORY
KREZEMIENSKI , JOSEPH AA207 THE FICTORY
KROSOCKZA, JARRETT VENDOR FRIENDLY NEIGHBORHOOD COMICS
LAMB, BRADEN AA309 W/ PAROLINE, SHELLI END CAP
LANE, LINDA AA506 W. DINNALL , OLIVIA
LAYTON, BOB AA902 FRONT CAP
LEBLANC, DAVID J AA604 ACTION ABSTRACTION STUDIOS
LEE, NORMAN AA901 FRONT CAP
LEMAY, CATHERINE AA305
LILLY, MIKE AA908 END CAP
LIRAKIS, LIZ AA803 TRACIMOC
LIRAKIS, LIZ AA804 TRACIMOC
LOLAR, JOEL AA813 STOCK PILE COMICS
LOVETT, NATE AA711
LOVUOLO, ANDREW AA810 END CAP
MACLEAN, ANDREW AA203 FAERBER, LOGAN
MAGUIRE, KEVIN AA910
MALEEV, ALEX AA202 FRONT CAP
MANAPUL, FRANCIS * AA302 FRONT CAP
MANN, CLAY AAW18 MORE GREAT ART
MARI, DANI AA315 W/ VITALI, JESSICA
MARTINO, JOE AA514
MASSA, BRIAN AA607
MAYDAK, MIKE AA415 MAYDAK
MAYER, JULI AAH02 W/ WOODS, TED
MAZUR, DAN AA409 BOSTON COMICS ROUND TABLE, NINTH ART PRESS END CAP
MAZUR, DAN AA410 BOSTON COMICS ROUND TABLE, NINTH ART PRESS END CAP
MCBASTID,SETH AA310
MCCOMSEY, JEFF AA205 FUBAR
MCCORMACK, CLAY AA512 W/ COWAN, DOUG
MCCULLOUGH, RHIANNON AA306 MCCULLOUGH EFFECT
MCGINNITY, SHAYNA AA606
MCGUNIESS, ED AA502 FRONT CAP
MCKENNA, MARK AAW23
METCALF, JASON AA615
MIKE WIERINGO SCHOLARSHIP FOUNDATION AA816 By request
MILLER, ADAM AA915 ZOMBIE BOMB! PRESENTS
MOCKOVIAK, NICK AA413
MOLEA, ROB AAH17 GEEKY PINUPS
MOORE, LINDSAY AA303
MORALES, MARK AAW17 MORE GREAT ART
MORNI, ANTHONY AA112 THE SEVEN TRIAL SOF KIERA SNOW
MULVEY, JOE AA314 W/ FELICIANO, CEASAR
MURPHY, SEAN GORDON AAW09 ESSENTIAL SEQUENTIAL
MUSTO, JACKIE AA209 KAY AND P COMICS END CAP
NERONSKI,ELIZABETH AA311
NEWIRTH, ZACK AAW36 W/WIGGINS, WILL
NICHOLS, IAN AA712 W/ KENNEDY, JAY FAT CAT FUNNIES
NORDEN, AMANDA AA515
NOTO, PHIL AA912
O'CONNOR, GEORGE AA114 HOMELESS COMICS
OLIVARES, JOSE LUIS AA313 W/ AUCOIN, MATT & FOLTZ, HOLLY
ORTIZ, RICARDO LOPEZ AA815
OSTRANDER, GLEN AA404
PAROLINE, SHELLI AA309 W/ LAMB, BRADEN END CAP
PEARSON, JASON AAW15 MORE GREAT ART
PECCI, MIKE AAH06 MIKE PECCI'S GRINDHOUSE
PELLIGRINO, RICHARD AAH18
PETERSON, DAVID AAW01
PINARD, MICHELLE AA208 MKT PRODUCTIONS
PRADO, JOE AA601 FRONT CAP
PRATT, TINA AA708
PURCELL, JACK AAW27
QUILL, ROBERT AA215 ARTIST FOR HIRE
QUINN, TRACEY LEE AA703
QUINONES, JOE AA402 FRONT CAP
RAMOS JR, WILSON AAH07 RIVERA, ERIC
RANDOLPH, KHARY DD1403 END VENDOR
RANEY, TOM DD1301 END
RATCLIFFE, ERIC AA411
REINCKE, JONATHON VENDOR JAWART ILLUSTRATION
REIS, IVAN AA602 FRONT CAP
RICHARD, SARA AA702 FRONT CAP
RICHMOND, LANDON AAH19 KNOW NO TRUTH
RIOT, ASHLEY AA904
RIVERA, ERIC AAH07 RAMOS JR, WILSON
RIVERA, PAOLO AA914
ROMAN, STEVEN AA106
ROSARIO, JAY DEE AA110 UNSTOPPABLE COMICS END CAP
ROSARIO, JAY DEE AA111 UNSTOPPABLE COMICS END CAP
ROUSEAU, CRAIG AA802 FRONT CAP
ROUX, STEPHANE AA401 FRONT CAP
RYAN, MATT AA312 FREE LUNCH COMICS
SAGER, CHRISTIAN AA307
SALE, TIM * AAW07 ESSENTIAL SEQUENTIAL
SANDS, JOHN AA216
SCALERA, MATTEO AAW10 ESSENTIAL SEQUENTIAL
SCOTT, STEVE AA913
SEDANI, T AA806 W/DAXBERGER, JOE THE DRAW BOX
SIEGEL, ELIZABETH AA211 TOFUSQUIRREL
SIENKIEWICZ, BILL DD1128
SILVA, RICK AA405
SIMETI, PETER AA704
SINNOT, JOE DD1129
SIROIS, DOUGLAS AA414 DOUGLAS A. SIROIS ILLUSTRATION
SMOLEY, BRAD AA214 W/ FAKEMCOY COMICS, HARRIS, CORY, SMOLEY, BRAD
SNIEGOSKI, THOMAS E. AA911
SNYDER, BRITT AA508
SOARES, EVERETT AA906 JOLLY ROGUE STUDIO, SOARES, SUSAN
SOARES, SUSAN AA906 JOLLY ROGUE STUDIO, SOARES, EVERETT
STEVENS, KARL AA905
STEVENSON, KRISTILYN AA210 ZOMBIE ROMANCE END CAP
STRUCKOFF, IAN AAH05 BLACK LABEL COMICS
STRUTZ, JASON AA612 FIRETOWER STUDIOS
SUN,YIN WEN AA808 MR RAIN
SUYDAM,ARTHUR AAW32
SUYDAM,ARTHUR AAW33
SUYDAM,ARTHUR AAW34
TAKARA, MARCIO DD1302 END
TAM, TINA AA113
TEMPLESMITH, BEN AAW05
TEXEIRA, MARK DD1102 END
THOMPSON, JILL * DD1130 END VENDOR
TODD, JONATHON AA504 PBJ COMICS
TORO, VICTOR AA613
TRIMPE, HERB AAW29
TUCCI, BILLY AAW06
UMINGA, CHRISTOPHER DD1401 END VENDOR
URTIZ, RICARDO LOPEZ AA815
VEGA, ESTABAN AAH09
VINES, DEXTER AA501 FRONT CAP
VITALI, JESSICA AA315 W/ MARI, DANI
WALKO, BILL AA407
WAUCHOPE, SCOTT AA811 RANDOLPH HOUSE PRODUCTIONS
WICKS, MARIS AA403 PRINCE, LIZ
WIGGINS, WILL AAW36 W/NEWIRTH, ZACK
WILSON, CHARLESPAUL AAW02
WITTERSTAETTER, RENEE DD1101 END
WOMANTHOLOGY DD1131 END VENDOR
WOOD, AARON AA707
WOOD, JENNIE AA805 W/ YUSLATIS, JOHN
WOODALL, RICH AA802 FRONT CAP
WOODS, TED AAH02 W/ MAYERS, JULI
WRIGHTSON, BERNIE AAW30
YOUNG, SKOTTIE * AAW26
YUSKATIS, JOHN AA805 W/ WOOD, JENNIE
ZULLO, CHRISSIE AA701 FRONT CAP
About Boston Comic Con: The Boston Comic Con is a 100% independently run comic book show committed to bringing the biggest and best comic creators to New England. Run by fans for fans, Boston Comic Con is not affiliated with any other convention tour or corporate interests. Hosting over 40,000 square feet of vendors selling comic books, toys, posters, trading cards, and other pop culture memorabilia, this is a destination event for geeks of any stripe. This year's convention will be held Saturday April 21st and Sunday April 22nd opening at 10:00 am each day at the Hynes Convention Center, 900 Boylston Street, Boston, MA. For more information please go to our website at www.bostoncomiccon.com and follow us on Twitter (@BostonComicCon) and Facebook!