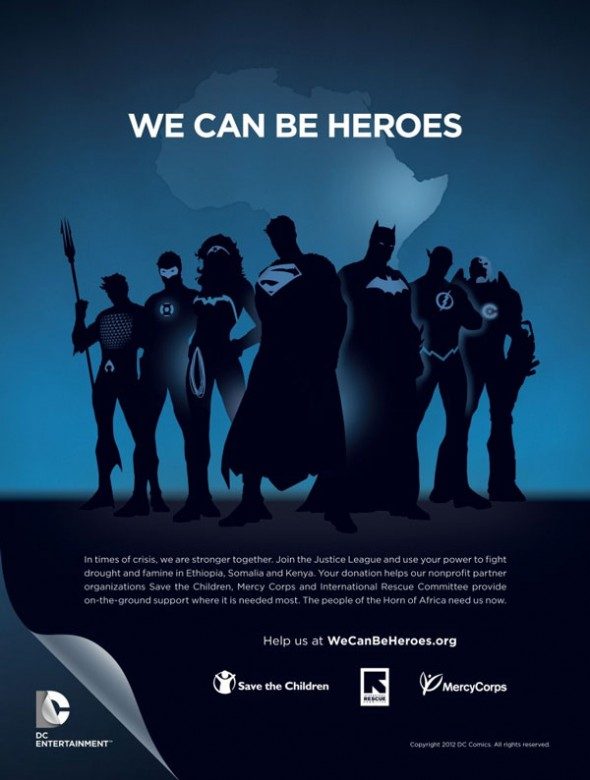 Press Release:
We're excited to announce that We Can Be Heroes is launching its text 2 give effort at this weekend's WonderCon 2012 in Anaheim. Fans at WonderCon and beyond will have multiple opportunities to donate to the campaign by texting "HEROES" to 80888 to contribute crucially needed funds directly from their phones. DC Entertainment will match all donations 100%.
With panels throughout all three days and lots of activities at the DC Entertainment booth on the show floor, there will be plenty of great opportunities for Heroes fans to support the campaign.
If you are attending WonderCon, check out the green screen photo booth where you can pose with the Jim Lee-designed We Can Be Heroes campaign backdrop. It's a great way to not only show off that you're a fan of Justice League but that you too have made the choice to be a hero to the people of the Horn of Africa. And please be sure to visit us at the following DC Comics panel discussions to possibly win a signed poster:
Friday at 1pm: DC Comics: All Access
Saturday at 1pm: DC Comics: The New 52
Sunday at 2pm: DCE: Meet the Publishers
You can also win exclusive We Can Be Heroes products including campaign posters signed by Jim Lee and Geoff Johns. Be sure to stay tuned to the DC Comics Twitter profile and Facebook page throughout WonderCon for your opportunity to win.
We're hoping you will join us at WonderCon for a great couple of days of talking about comics. And we're hoping you will join us in becoming a hero to those in the Horn in Africa who are in such dire need.
About We Can Be Heroes
We Can Be Heroes (www.WeCanBeHeroes.org) is a giving campaign designed to raise awareness and funds for the hunger crisis in the Horn of Africa. Using the iconic Justice League characters from DC Entertainment, We Can Be Heroes aims to raise substantial funds for three humanitarian aid organizations working in Africa: Save the Children, International Rescue Committee, and Mercy Corps. DC Entertainment will match donations up to $1 million in total donations, and 50% of the purchase price from We Can Be Heroes products will go directly to saving lives. Learn more, donate and get involved at www.WeCanBeHeroes.org.