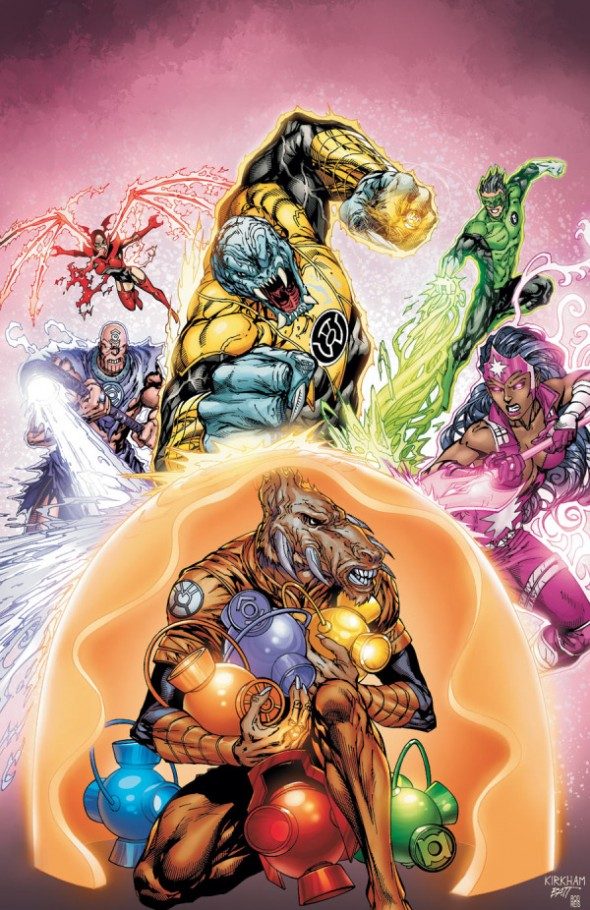 Press Release:
More Than 100 Top Creators Already Scheduled To Attend 2012 Wizard World Toronto Comic Con, April 14-15 At Metro Toronto Convention Centre
World-Class Lineup Includes Mike Deodato Jr., "Jock," John McCrea, Dale Keown, Tyler Kirkham, Greg Horn, Arthur Suydam, Emmy Award Winner Phil Ortiz of "The Simpsons"
NEW YORK and TORONTO, March 7, 2012 – Artist Alley will be abuzz as more than 100 talented  creators, known for their work on virtually every blockbuster comics franchise, are scheduled attendance at Wizard World Toronto Comic Con, April 14-15 at Metro Toronto Convention Centre (MTCC).  The collection of superstars features international guests as well as top GTA talent, and more are expected to join in the coming weeks.
The world-class lineup includes such notables as Mike Deodato Jr. ("Amazing Spider-Man," "Wonder Woman"), "Jock" ("Detective Comics," "Batman"), John McCrea ("Hitman," "Transmetropolitan"), Javi Fernandez ("Flashpoint: The Outsider," "Captain America: First Vengeance"), Dale Keown ("Hulk," "The Pitt"), Tyler Kirkham ("Green Lantern Corps," "Blackest Night"), Emmy Award Winner Phil Ortiz ("The Simpsons," "He-Man and the Masters of the Universe"), Greg Horn ("Spider-Man: Turn off the Dark," "X-Force"), Francis Manapul ("The Flash," "Adventure Comics") and Arthur Suydam ("Marvel Zombies," "Army of Darkness").
The third annual Toronto Comic Con, produced by Wizard World, Inc. (WIZD.PK), will bring together thousands of fans of all ages and dozens of celebrities and industry professionals to celebrate the best in pop-fi, pop culture, movies, graphic novels, comics, toys, video gaming, television, sci-fi, gaming, original art, collectibles, contests and more.
Marcus To ("The Huntress," "The Authority"), Ken Lashley ("Batwing," "Avengers"), David Mack ("Kabuki," "Daredevil"), Greg Tocchini ("Batman and Robin," "Hulk"), Michael Golden ("Batman," "Spider-Man"), Mike del Mundo ("Venom," "The Amazing Spider-Man") and Leonard Kirk ("X-Factor," "Wonder Woman") are among the other top artists scheduled to attend.
Top celebrities such as Scott Bakula ("Star Trek: Enterprise," "Quantum Leap"), Amy Acker ("Angel," THE CABIN IN THE WOODS), Paul Wesley ("The Vampire Diaries," "24"), Jeri Ryan ("Star Trek: Voyager," "Boston Public"), WWE® Hall of Famer Edge® and Dean Stockwell (MARRIED TO THE MOB, "Battlestar Galactica") are also scheduled to appear at Toronto Comic Con, which has moved to the more prominent downtown venue for 2012.
Children and adult attendees are encouraged to come dressed as their favorite villain, superhero or pop culture personality for the chance to win special prizes in costume contests.  Event-goers may also try their hand at interactive product exhibits and shop for collectible comics, movie and television memorabilia, toys and games at scores of dealer booths.
Toronto Comic Con is scheduled as the second stop on Wizard World's 2012 North American tour.  Hours are Saturday, April 14, 10 a.m. – 7 p.m.; and Sunday, April 15, 11 a.m. – 6 p.m.  Tickets are available in advance online at http://www.wizardworldcomiccon.com/toronto.html at a savings over tickets purchased at the door.  Advance adult single-day tickets are priced at $25 ($38 on site); two-day tickets are $40 ($55 on site), and tickets are free for children age 10 and under when accompanied by a paid adult (limit two children per adult).  VIP packages with special entry and exclusive items are also available on a limited basis.
About MTCC
The Metro Toronto Convention Centre (http://www.mtccc.com) is Canada's #1 convention and trade show facility.  It is located in the heart of downtown Toronto, within walking distance of almost 13,000 hotel rooms, shopping, restaurants and Toronto sites.
About Wizard World:
Wizard World produces Comic Cons and pop culture conventions across North America that celebrate graphic novels, comic books, movies, TV shows, gaming, technology, toys and social networking. The events often feature celebrities from movies and TV, artists and writers, and events such as premieres, gaming tournaments, panels, and costume contests.
The full event schedule can be found at www.wizardworldcomiccon.com.
***** SAVE THE 2012 DATES *****
April 14-15 – Toronto Comic Con
June 1-3 – Philadelphia Comic Con
August 9-12 – Chicago Comic Con
September 29-30 – Mid-Ohio Comic Con
October 26-28 – Austin Comic Con
TBD 2013 – New Orleans Comic Con