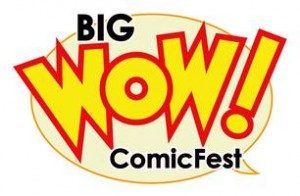 Press Release:
"Big Wow! ComicFest" is Northern California's premier 2 day comic book comic art event, and Bill Cox is one of the heroes of the comic art world with the creation of Comic Art Fans, a website devoted to the love and sharing of comic book and fantasy original art. It only made sense that the two would eventually join forces.
Bill explains a little about Comic Art Fans and how he got into the world of CAF web works and his association with Big Wow!:
"I have always had a passion for comics and had always expected to one day work in the comics business and, in a round about way, I finally am. After graduating from Montserrat College of Art in Beverly, MA in 1991, I worked as a metalsmith before getting interested in web design in the mid-1990s. I started my first Internet consulting business in 1999 and, along with my wife Maureen and business partner Chris Haggard, we launched ComicArtFans.com in February 2003. Over the last nine years CAF has become the go-to site for comic art collectors and artists to showcase their collections and talent. With over a half million pieces of comic art on display, the 500,000 unique visitors to CAF each month have plenty to look at!"
"I've loved the whole comic book convention experience since attending Creation Con in Cleveland in the late 1970s. Those were some really fun shows and a great introduction to comics and comic creators. Since starting CAF and getting more involved with the comics as a business, I've always felt that there needed to be a show that put the spotlight on the people that created the comics, and gave attendees a different kind of interactive perspective on today's comic creators. I'm also very interested in finding ways to get today's youth more interested in comics and conventions are a great way to do that.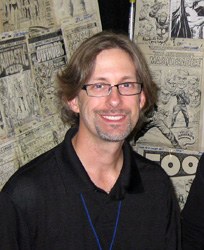 After attending the Big Wow! ComicFest in 2011 I really liked their approach to getting comic artists out in front of the audience. After the show I had the opportunity to talk more with the owners and they offered me the opportunity to become a part of the Con and I jumped at the chance. Although I have been approached a few times to get more involved with other conventions – or even to start my own show under a ComicArtFans.com umbrella – I knew I probably couldn't take a leading role due to my other business obligations. With Big Wow! ComicFest I get to work with the things I'm most familiar with which is website building, marketing and promotion. It feels right.
I have known both Steve Morger and Steve Wyatt for a while and there isn't a person I've spoken to that doesn't have great things to say about them. So being asked to play a part in the future of Big Wow! ComicFest is truly an honor. I'm excited about the future of the Festival and the potential role that CAF and I will be able to play in it."
Bill and his team have already contributed greatly to the Big Wow! show by creating an amazing website and helping to enhance the "on line" presence of the show.
"Big Wow! ComicFest" is by all accounts, an "old fashioned" comic book convention, with a special emphasis on the love for comic books, art and, most importantly, the creators. With a focus on creators, art and art related events and, this year, in association with the Cartoon Art Museum in San Francisco, an "Avengers" Museum show on the Big Wow! convention floor, Big Wow! will be a comic book lover's dream scenario.
Big Wow! ComicFest will occur on May 19th & 20th, 2012, at the San Jose Convention Center. This year's stunning guest list sets a new standard for talent at a single convention and includes Jim Lee, Kevin Nowlan, Juanjo Guarnido, Bernie Wrightson, Steve Niles, Tim Bradstreet, Bob Layton, Joe Jusko, Joe Linsner, Ryan Sook, Frank Cho, Aaron Lopresti, Toshio Maeda, Liam Sharp, Sergio Aragones and many, many more. Check out the CAF created website at www.bigwowcomicfest.com for all the fun facts and information.