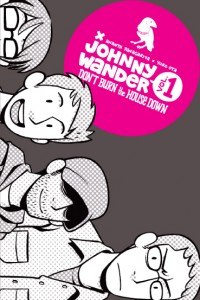 Ananth Panagariya and Yuko Ota appear at Midtown Comics on Friday, February 24, 2012 from 6:30pm until 9:30pm
Press Release:
It's the Midtown Comics Book Club! Join us for our monthly Graphic Novel book club at our Downtown store.
This month's book will be Johnny Wander Vol. 1, and creators Ananth Panagariya & Yuko Ota will be there to discuss the book with the club! If that's not enough to entice, free coffee will be served.
Don't have the book yet? Save 25% off cover price at any of our three stores (in-store only). Just mention the Midtown Comics Book Club at the cash register!
The Book Club will meet on Friday February 24th at 6:30PM at Midtown Comics Downtown.
SEATS ARE VERY LIMITED!   See you there!
Johnny Wander is a webcomic written by Ananth Panagariya and illustrated by Yuko Ota. It is published bi-weekly.[1] The comic generally focuses on slice of life stories involving Ananth, Yuko, and their friends and family following graduation from college. However, the comic occasionally encompasses unrelated fantasy storylines. The name is meant to evoke the creator's desire to use the comic to "wander" through whatever topics interest them at the moment.
The webcomic has been generally well-received, with reviewers calling it as a humorous and sweet comic that invites new readers to continue reading. The artwork has also been praised for its depth and quality. The first physical book collection "Johnny Wander Vol. 1: Don't Burn the House Down" was published in 2010.
Midtown Comics
64 Fulton Street, New York, NY 10038