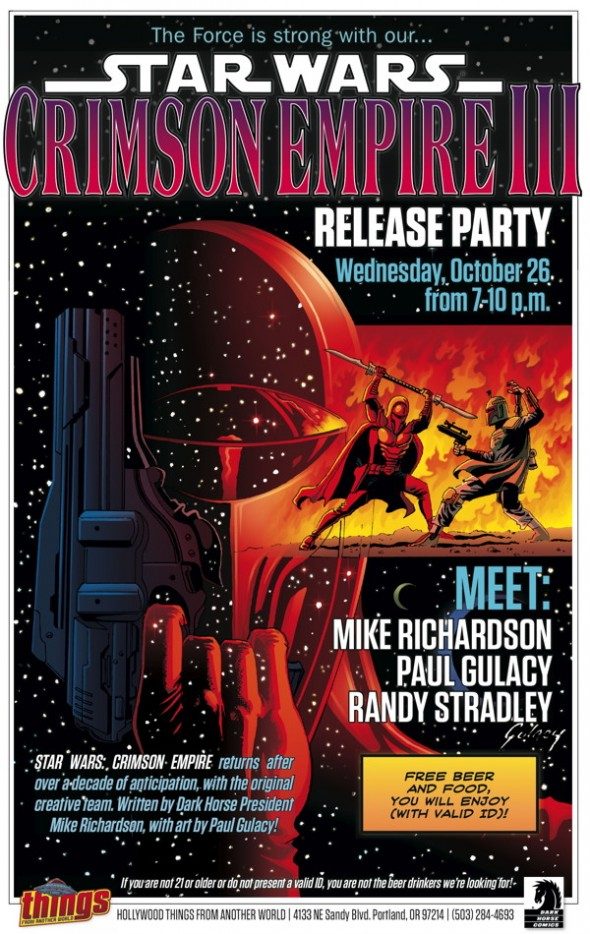 Paul Gulacy, Mike Richardson, and Randy Stradley sign at TFAW on October 26 from 7-10pm.
Press Release:
After more than a decade of anticipation, Star Wars: Crimson Empire returns with the original creative team! October 26, meet writer and Dark Horse President Mike Richardson, artist Paul Gulacy, and editor Randy Stradley at the Hollywood Things From Another World (TFAW) from 7:00-10:00 pm and celebrate the release of Star Wars: Crimson Empire III-Empire Lost #1 from Dark Horse Comics. Complimentary food and beer (with valid ID) will be provided.
The reach of the New Republic is expanding, but the days of fighting for the galaxy have not ended. A threat against Princess Leia and Han Solo's family disrupts usual business on Coruscant–and Luke Skywalker's Jedi training on Yavin 4!
"Star Wars: Crimson Empire has always held a special place in our hearts," said TFAW Marketing Manager Elisabeth Forsythe. "Its return will let fans catch up with a lot of beloved characters!"
Mike Richardson, who founded Dark Horse Comics in 1986, is no stranger to writing comics, having scripted the first Crimson Empire series as well as the original horror graphic novels Cut and The Secret. Eagle Award-winning artist Paul Gulacy has been a mainstay of the comics industry for nearly four decades, lending his talents to The Terminator, Batman, and more. Senior Editor Randy Stradley, in addition to being a founding employee of Dark Horse Comics, has been the editor for the publisher's entire Star Wars line for more than a decade.
Meet the creators, purchase your copy of Star Wars: Crimson Empire III-Empire Lost #1 and get it signed (including the Paul Gulacy variant-cover edition), pose in front of our green screen, and enjoy free beer (21+, with valid ID) and food October 26. Plus, stay tuned for more announcements at Twitter.com/TFAW!
About Things From Another World:
Founded in 1979, Things From Another World is the premier retailer of comic books, toys, collectibles, and pop-culture geek goodness, both in Portland, Oregon and online.
About Dark Horse Comics:
Since 1986, Dark Horse Comics has proven to be a solid example of how integrity and innovation can help broaden a unique storytelling medium and establish a small, homegrown company as an industry giant. The company is known for the progressive and creator friendly atmosphere it provides for writers and artists. In addition to publishing comics from top talent like Frank Miller, Mike Mignola, Neil Gaiman, Gerard Way and comics legend Will Eisner, Dark Horse has developed such successful characters as The Mask, Timecop, and SpyBoy. Additionally, their highly successful line of comics and products based on popular properties includes Star Wars, Indiana Jones, Buffy the Vampire Slayer, Aliens, Conan, Emily the Strange, Tim Burton, Trigun, Serenity and Domo. Today, Dark Horse Comics is the largest independent comic-book publisher in the U.S. and is recognized as one of the world's leading publishers of licensed comics material.
Things from Another World
4133 NE Sandy Blvd, Portland, OR 97212