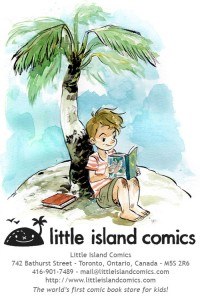 Fiona Smyth, Claudia Dávila, Clayton Hammer, Jeremy Tankard, Kean Soo, and Tory Woollcott appear at the Little Island Comics grand opening!
Press Release:
The Beguiling is pleased to announce the Grand Opening of North America's first children's comic shop—Little Island Comics! Offering the widest possible array of graphic novels, manga and comics for people 12 years old and younger, Little Island Comics had a successful soft open in early September. Little Island Comics' inaugural events on the first weekend of October 2011 will mark the debut of its event space with visits from local comics creators and the launch of Claudia Dávila's new book Luz Sees the Light.
Little Island's Grand Opening festivities will be a celebration of children's comics and of Toronto's comics community. A stellar schedule of local creator visits will be augmented by informal activities for kids from open to close each day during the Grand Opening weekend. As well, select titles will be offered at door-crasher prices, making Little Island Comics' Grand Opening weekend an ideal time to stock your comics library!
Scheduled creator appearances include:
Saturday October 1st
1:00pm – Fiona Smyth (The Never Weres)
3:00pm – LAUNCH: Claudia Dávila (Luz Sees the Light)
Sunday October 2nd
12:00pm – Clayton Hammer (Cton's Super A-Maze-Ing Year Of Crazy Comics!)
2:00pm – Jeremy Tankard (Boo-hoo Bird)
4:00pm – Kean Soo (Jellaby) and Tory Woollcott (Mirror Mind)
Little Island Comics is located on Bathurst Street just south of Bloor, a short block from its parent store and just a few doors away from the recently-moved Sonic Boom record shop, making their Mirvish Village neighbourhood a single stop for comics and culture for the whole family! Through a schedule of kids' events and how-to comics workshops, Little Island will inspire a new generation of comics writers and artists!
Little Island Comics
742 Bathurst Street, Toronto, Ontario, Canada M5S 2R6
416-901-7489