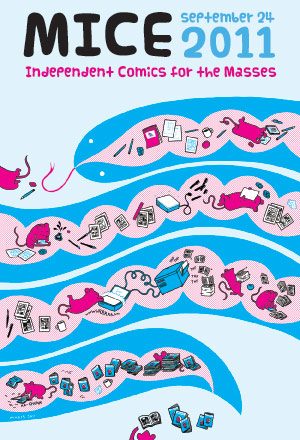 The Massachusetts Independent Comics Expo has released the schedule for this weekend's show!
Workshops & Artist Demos
12pm – Foldy Comics! – Jerel Dye presents an innovative way of making a your own comic book from a single sheet of paper.  This is a kid-friendly workshop or for anyone just getting started in the comic craft.
1pm – Watercolor Demonstration with Ellen Crenshaw
2pm – Comic Lettering and Inking with David Marshall
3:15pm – Creating Digital Comics – Walkthrough the software and techniques with webcomic artist Andy Wong.
4:30pm – Coloring Comics with Braden Lamb
Panels
Comics & …! is a day-long program of panel discussions exploring diverse topics in independent comics.  Each panel will take place in University Hall's Amphitheater, 2nd Floor.
COMICS & TEACHING: Beyond Maus and Persepolis
11:00 AM – Comics such as Spiegelman's Maus and Satrapi's Persepolis have found a solid foothold as legitimate classroom texts. However, there are many other noteworthy graphic novels that could also find their way into the K-16 curriculum. This panel will explore specific strategies for teaching comics and teaching with comics, looking past the "canonical" texts noted above.
MODERATOR: David Marshall PANELISTS: Michael Gianfrancesco, Director, New England Comic Arts in the Classroom; Educator, North Providence High School; Maureen Bakis, author The Graphic Novel Classroom; Alexander Danner, instructor, Emerson College Graphic Novel Program; Robert Shreefter, Professor, Lesley University.
COMICS & CHILDREN'S LITERATURE: Smart Comics For Kids
12:15 PM – This panel of writers, artists, and reviewers will discuss today's comics storytelling for kids, the challenges of appealing to different age groups, and the changing roles of such "gatekeepers" as librarians, comic shops, publishers, parents, and digital portals.
MODERATOR: J. L. Bell, Society of Children's Book Writers and Illustrators PANELISTS: Robin Brenner, creator of noflyingnotights.com, Jef Czekaj, author-illustrator. Gareth Hinds, author-illustrator, Shelli Paroline, artist, Colleen AF Venable, scripter and designer
COMICS & SOCIAL JUSTICE: Cartoons with a Cause
1:30 PM – Our panelists discuss ways in which the comics medium can be valuable in political discourse, and how independent comics can be an important focus of community activism as well as provide voices for — and representations of — minorities and other marginalized groups.
MODERATOR: Che Salazar PANELISTS: Rebecca Migdal, World War Three Illustrated; Colin Tedford, Trees & Hills Comics Group; Tak Toyoshima, creator Secret Asian Man; Anna Mudd, Harvard Center for Middle Eastern Studies
COMICS & FASHION : Project: Rooftop
2:45 PM – Since 2006 the Project : Rooftop website has examined the trend of independent illustrators redesigning superhero costumes, and now the discussion goes live at MICE! This panel will focus on a few comic book characters, looking at how they've been visually interpreted over the years by professionals and fans alike.
MODERATOR: Braden Lamb PANELISTS: Joe Quinones (Wednesday Comics, Amazing Spider-Man), Ming Doyle (Tantalize, The Loneliest Astronauts), and Jennifer Ngan (Instructor, Art Institute of Boston).
COMICS & COLLABORATION: Teamwork 101
4:00 PM – Many of the best comics and graphic novels are created through collaboration between a writer and artist. This panel will present several experienced teams of artists and writers, to share their insights on the pleasures and pitfalls of creative teamwork. How are comics partnerships formed and successfully maintained to produce the optimum results? What surprises have writers and artists encountered in the process of collaboration? What should less experienced creators seeking collaborators look for or be wary of?
MODERATOR: Alexander Danner PANELISTS: TBA
COMICS & TECHNOLOGY: Digital Comics
5:15 PM – Digital creation and distribution of comics are here to stay and will only get more important to the future of the medium. What are the best platforms – currently, or on the horizon — for the production and delivery of digital comics? How can artists and writers adapt themselves to new devices and software, and what improvements can be anticipated? What are the implications of these new technologies for the artist's work and income?
MODERATOR: Dirk Tiede (Paradigm Shift) PANELISTS: Kevin Church (Writer, The Line), Christopher Baldwin (Little Dee) Box Brown (Everything Dies)