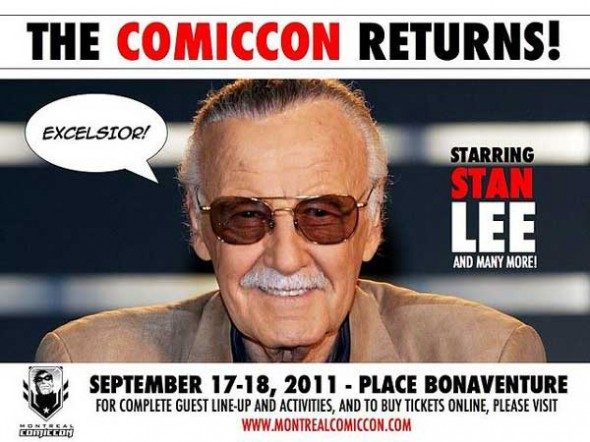 Press Release:
The Montreal Comiccon Expands! September 17-18, 2011 – Place Bonaventure
MONTREAL, QUEBEC, Aug 18, 2011  — When internationally recognized comic book icon Stan Lee, undoubtedly the biggest name in comics, agrees to be your guest of honor, you know you're in for something special, even magical. In what promises to be the largest attendance it has seen yet, the Montreal Comiccon is incredibly proud to welcome Stan "The Man" Lee, co-creator of fan-favorite characters Spider-Man, the Fantastic Four, the X-Men, the Incredible Hulk, Thor, Iron Man, the Avengers and Daredevil (to name a few). In what is surely to be a Montreal exclusive, Stan will be signing autographs, taking pictures and essentially bestowing his awesomeness upon the multitude of fans eagerly awaiting the chance to meet their hero.
And as if THAT wasn't enough, the Montreal Comiccon is offering a spectacular line-up of stars from the worlds of comics, science fiction, television, film, horror, bande dessinee, manga and wrestling. Science fiction, television and comic book fans will be thrilled to meet the original Dynamic Duo, the legendary Adam West and Burt Ward. Known the world over for their acclaimed portrayals of Batman and Robin in 1960s' Batman, they will be on hand to meet and greet their loyal Montreal fans. Oh yeah, they're also bringing with them the most beloved crime-fighting vehicles ever known, the one-and-only 1960s Batmobile! Joining the Caped Crusader and the Boy Wonder are Buffy the Vampire Slayer's platinum-blonde punk vampire Spike, better known to us mortals as the charismatic James Marsters. Accompanying him are Mercedes McNab, the vampire villainess Harmony Kendall and Clare Kramer, the Buffy villainess supreme.
Beaming down from the Enterprise to join in on all the Comiccon fun are Star Trek: The Next Generation's Lieutenant Worf and Commander Deanna Troi, played by Michael Dorn and Marina Sirtis, respectively. We also have, from another corner of space, and a galaxy far, far away, bounty hunter Jeremy Bulloch, otherwise known to Star Wars fans as the incomparable Boba Fett. Other goody galactic guests include Maria de Aragon, the cocky bounty hunter Greedo, and Gil Gerard and Erin Gray, who played Buck Rogers and Colonel Wilma Deering, respectively. And if THAT wasn't enough, fans can have their photos taken with Back To The Future's time-travelling DeLorean (time travel not included)!