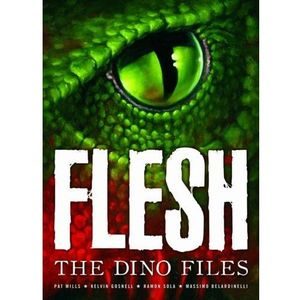 PAT MILLS signs at the Forbidden Planet Megastore, 179 Shaftesbury Avenue, London, WC2H 8JR, on Saturday 10th September 1 – 2pm.
Think that a meteorite collision with our planet was responsible for making the dinosaurs become extinct? Wrong! By the 23rd Century, man has drained the planet's resources bare, but thanks to time-travel technology, the Trans-Time Corporation send rangers – such as cowboy Earl Reagan – to the days when dinosaurs ruled the Earth. The rangers round up these magnificent creatures and get real flesh back on the menu!
Pat Mills is usually described – quite correctly – as 'the godfather of British comics'. His work includes Charley's War, Vampire Knight and Marshall Law as well as ABC Warriors, Slaine, Nemesis The Warlock and a host of others for 2000AD.