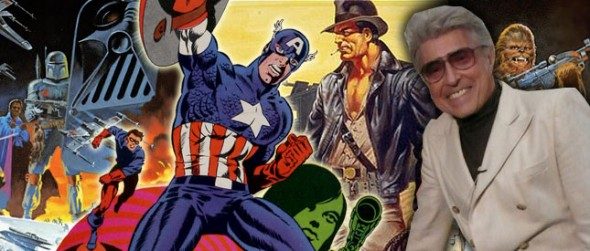 Press Release:
Jim Steranko, Joe Linsner, Greg Horn and more added to FAN DAYS
October 8-9, 2011
Hot off the heels of the highly successful Dallas Comic Con this past May, the same promoters have assembled another impressive guest list for the October 8-9 event called FAN DAYS.
Comic book legend Jim Steranko will make a rare appearance at the event, his first visit to the Dallas area in almost two decades.  Steranko is praised by comic book fans and creators for his surrealistic style incorporated in the Silver and Bronze Age with Marvel flagship characters like Nick Fury and Captain America.  He would later enter the publishing field with movie magazines like Prevue, and even designed characters and concepts for major films like RAIDERS OF THE LOST ARK (yes, Jim designed Indiana Jones) and Francis Ford Coppola's BRAM STOKER'S DRACULA.  This is a rare opportunity for fans to meet the groundbreaking creator in person.  He's been added along with recent comic book creators Joe Linsner (creator and artist of DAWN) and Greg Horn (Marvel cover artist).
Other guests for the multi-faceted event already include media names like Billy Dee Williams (STAR WARS), George Takei (STAR TREK), Julie Benz (DEXTER), and Jaime King (SIN CITY), along with comic creators like Herb Trimpe, Michael Golden, Dave Dorman, Terry Moore, James O'Barr, Kerry Gammill and more.
FAN DAYS Event Manager Mark Walters was quoted to say "The Dallas Comic Con earlier this year was a way of getting our feet wet with the brand new Irving Convention Center, but Fan Days is going to be a somewhat definitively diverse event for the fan community – offering a wider selection of guests and events during and after the show, this will be one of the most incredible fan functions the DFW area has ever seen."
All guests are attending both days (unless otherwise noted on the website), and some guests do charge fees for autographs. General Admission, Priority and VIP admission passes will be available.  For all the latest info check out http://fandays.com