Press Release:
ANIMATOR AND DIRECTOR MAKOTO SHINKAI COMES TO THE NEW YORK ANIME FESTIVAL
Shinkai To Present NY Premiere Of Children Who Chase Lost Voices From Deep Below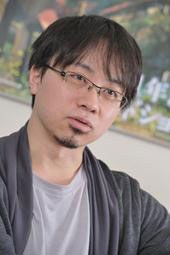 Norwalk, CT, August 4, 2011: The New York Anime Festival (NYAF) and Crunchyroll today announced auteur Japanese animator and director Makoto Shinkai will participate in this October's New York Anime Festival.  The New York Anime Festival will take place October 13-16, 2011 at the Javits Center in Midtown Manhattan as part of the sixth annual New York Comic Con (NYCC).  NYCC, which attracted 96,000 attendees in 2010, celebrates comics, television, movies, toys, games, and the popular arts from around the planet.  NYCC's Anime Festival shines a specific spotlight on anime, manga, and Japanese pop culture.  NYCC has already announced guests including Kevin Smith, Felicia Day, and Robert Kirkman.  NYAF guests include voice actress Junko Takeuchi and manga author Hiro Mashima.
Makoto Shinkai, born in Nagano, Japan in 1973, boldly entered the animation world in 2000 with She and Her Cat, a short single-handedly written, directed, and animated. His follow up, The Voices of a Distant Star in 2002, was again a solo work.  Shinkai laboring individually on what a team would normally produce, the result was a poignant, personal, unique film which won awards and praise in both Japan and the United States. Shinkai's first animated feature, The Place Promised in Our Early Days, was released in 2004, and it was followed by 5 Centimeters per Second in 2007.  Shinkai now working with a dedicated staff at CoMix Wave Films committed to his vision, these two titles expanded the scope of his storytelling. They further planted his name squarely in the minds of anime fans, critics, and cinemaphiles on both sides of the Pacific, and earned the young artist comparisons to master storytellers including Hayao Miyazaki and the departed Satoshi Kon.
Hoshi O Ou Kodomo: Children who Chase Lost Voices from Deep Below is Makoto Shinkai's newest work, released earlier this year in Japan and premiering in New York City at the New York Anime Festival.  He is co-sponsored by Crunchyroll.  His travel is provided by American Airlines.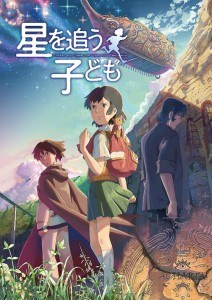 "The New York Anime Festival is humbled to welcome Makoto Shinkai to New York City," NYAF and NYCC Show Manager Lance Fensterman said.  "Since The Voices of a Distant Star was released in America, it has been making fans. Something different, all of Shinkai's works have been possessed by a heart and a sense of self that is seldom seen in anime.  Every project Mr. Shinkai's been behind has had a clear personality, intimacy, and immediacy that have earned him fans far beyond traditional anime watchers.  Shinkai's works are respected by animation and cinema aficionados the world over, and I am delighted to bring Mr. Shinkai to New York City and to present his most recent work, Children who Chase Lost Voices from Deep Below."
Children who Chase Lost Voices from Deep Below premiered in Japan on May 7th and saw its American premiere at Otakon on July 30th of this year.  It will screen for the first time in NYC at the New York Anime Festival.  In Children who Chase Lost Voices from Deep Below, a girl named Asuna meets a young man called Shun who comes from the faraway land of Agartha.  The two quickly become friends, but then — just as quickly — Shun disappears.  And when Asuna hears the word "Agartha" again in school as part of a fairytale, she knows adventure and mystery lie ahead.  Makoto Shinkai's most ambitious film yet, Children who Chase Lost Voices from Deep Below is grand in scope, marrying together lavish visuals with a narrative that literally crosses worlds.
At the New York Anime Festival, Makoto Shinkai will speak on a Q&A session and dedicate time to autographing, both public signings for general attendees and reserved autographing for NYAF VIPs.  His appearance will culminate in the introduction to Children who Chase Lost Voices from Deep Below.
For Mr. Shinkai's bio, headshot, and stills from Children who Chase Lost Voices from Deep Below, please visit www.newyorkcomiccon.com.
Details around all of Shinkai's events and NYAF's full schedule will be announced later this summer.  Tickets are available at www.newyorkcomiccon.com now. For the latest information, please follow @ny_anime_fest and @ny_comic_con on Twitter as well as read NYAF and NYCC's official blog,www.mediumatlarge.net.
ABOUT CRUNCHYROLL, INC:
Crunchyroll is a leading global video network and developer of social media applications for Japanese anime and Asian media. Through applications like Crunchyroll for iPhone, iPad, Android, TV set-top boxes, affiliate websites and its own streaming website, Crunchyroll delivers officially-licensed content from leading Asian media producers directly to consumers. Crunchyroll has offices in San Francisco,Calif. and Tokyo, Japan, and is a member of the Association of Japanese Animations (AJA) and Licensing International Merchandisers' Association (LIMA). Founded in 2006, Crunchyroll is funded by leading venture capital firm, Venrock, Japanese entertainment giant TV TOKYO, digital publishing leader Bitway and a group of angel investors representing some of the brightest and most successful entrepreneurs in Silicon Valley. (www.crunchyroll.com)
ABOUT THE NEW YORK ANIME FESTIVAL:
The New York Anime Festival is a celebration of Japanese popular culture from the creators of New York Comic Con. NYAF conducts, promotes and is involved in anime and Japanese cultural activities year-round in New York City, including events at Kinokuniya Bookstore, Japan Society, and the Brooklyn Botanic Garden's Sakura Matsuri. Our flagship event is the New York Anime Festival at New York Comic Con. Taking place at the Javits Center in Midtown Manhattan on October 13-16, 2011, the New York Anime Festival at New York Comic Con showcases the best of anime pop culture, including the latest anime, manga, Japanese cinema, music and games as well as anime-influenced comics, animation, and films from around the world. The festival features exclusive and extensive screenings, a gala cosplay masquerade, sessions with the some of the biggest names in anime from Japan, Asia and America, and explores the Japanese cultural experience with displays of both traditional and cutting-edge Japanese life. (www.newyorkanimefestival.com)
ABOUT NEW YORK COMIC CON:
New York Comic Con is the East Coast's biggest and most exciting popular culture convention. Our show floor plays host to the latest and greatest in comics, graphic novels, anime, manga, video games, toys, movies, and television. Our panels and autograph sessions give fans a chance to interact with their favorite creators. Our screening rooms feature sneak peeks at films and television shows months before they hit either big or small screens. And with dedicated professional hours, New York Comic Con is a market place, bringing together the major players in the entertainment industry. New York Comic Con is the second largest pop culture convention in America and the only one that takes place in the comic book, publishing, media, and licensing capital of the world — Gotham City. (www.newyorkcomiccon.com)
ABOUT REEDPOP:
ReedPOP is a boutique group within Reed Exhibitions which is exclusively devoted to organizing events, launching and acquiring new shows, and partnering with premium brands in the pop culture arena. ReedPOP is dedicated to producing celebrations of popular culture throughout the world that transcend ordinary events by providing unique access and dynamic personal experiences for consumers and fans.  The ReedPOP portfolio includes: New York Comic Con (NYCC), Chicago Comic & Entertainment Expo (C2E2), Penny Arcade Expo (PAX) East & West, Star Wars Celebration, New York Anime Festival (NYAF), Singapore Toy, Game & Comic Convention (STGCC), and UFC Fan Expo.  The staff at ReedPOP is a fan based group of professionals producing shows for other fans, thus making them uniquely qualified to service those with whom they share a common passion.  ReedPOP is focused on bringing its expertise and knowledge to world communities in North America, South America, Asia and Europe.