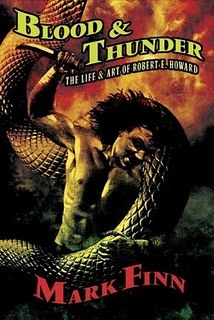 Author Mark Finn signs on Saturday, August 20 from 4pm to 7pm!
Press Release:
Join us for a special author signing and reading at Austin Books & Comics with Conan historian and notable Texas author Mark Finn on  Saturday, August 20. Our Conan book event is co-sponsored by Chipotle and Tecate… free beer and burritos for all!
Mark  Finn is an award-winning author, playwright, actor, and essayist with  over twenty five years' experience in the field of comics and popular  culture (as well as being a former Austin  Books & Comics employee!). His book, "Blood &  Thunder: The Life and Art of Robert E. Howard" was nominated for a Locus  Readers' award and a World Fantasy award.  Finn will be reading  sections of the Conan chapter in the book.
Austin Books & Comics
5002 North Lamar Blvd, Austin, TX 78751