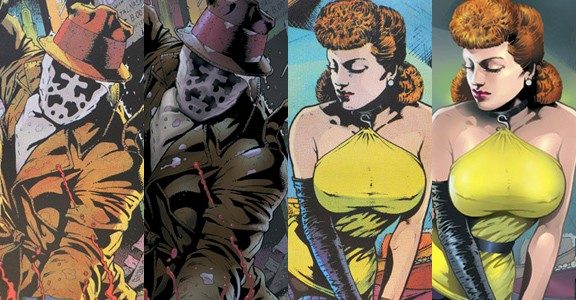 Press Release:
Splash Page Comic Art once again joins forces with Romitaman and Comic Art Fans at booth #4400 at Comic-Con International from July 21-24, 2011!
Splash Page will host the following artists at our booth:  Edgar Salazar, artist of Red Sonja, John Higgins, colorist of The Watchmen, and Brad Walker, artist of Guardians of the Galaxy and Heroes for Hire. Edgar Salazar and Brad Walker will also be taking on a limited number of convention commissions.
To celebrate 25 years of Watchmen – the only graphic novel included in Time Magazine's "All-TIME 100 Greatest Novels" list – original Watchmen team member John Higgins has created a brand-new limited-edition Watchmen portfolio exclusively for San Diego Comic-Con 2011.
The new portfolio comes in two flavors, each containing a set of three individual prints of fan-favorite characters Sally Jupiter, Rorschach, and The Comedian, each richly-detailed image penciled, inked and colored by John Higgins.
Set  A: Limited to 80 copies.
The A3-sized prints (11.7″ x 16.5″) are colored in Turmoil Colour Studios' modern color style and printed on Tintoretto Gesso 250gsm paper using the latest computer-controlled technology for a high-quality print run. All prints signed and numbered by John Higgins.
Available only at SDCC 2011 at the special price of $90 per set.
Set B: Limited to 20 copies.
Containing three A3 (11.7″ x 16.5″)silk-screened prints on perfect Velin Arches Blanc 250gsm paper, with hand-separated color by John in the style of the classic Watchmen coloring. These hand-finished prints are all numbered, signed and embossed with the Turmoil Colour Studios symbol by John Higgins.
Available only at SDCC 2011 at the special price of $300 per set.
Both sets will be contained in a special sturdy Watchmen portfolio.
Portfolios will only be available at the Splash Page Art booth at SDCC 2011
Splash Page has a wide variety of art by represented artists such as Charlie Adlard Walking Dead art, Duncan Fegredo Hellboy art, and by other artists such as Jae Lee's classic Namor, X-Men, and Dark Tower art.