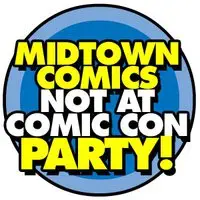 Press Release:
Can't make it to SDCC? Celebrate Comic Con with Midtown Comics! Head to Midtown Comics Downtown on Saturday, July 23rd for great events including big sales, trivia and costume contests, giveaways, prizes and creator signings including Larry Hama, Evan Dorkin, Amy Reeder, Rebekah Isaacs and MC Chris! If you're not at Comic Con, this is the place to be!
• Creator Signings, Contest, Sales and Giveaways All Day Long!
• 30% Off Everything from 11-12 pm One Hour Only!
• 20% Off Everything All Day!
• Trivia and Costume Contest!
• Win Awesome Prizes from Dark Horse Comics, Marvel, NYCC, Midtown Comics and More!
SCHEDULE:
ALL DAY: 20% Off Everything in the store!
11am-12pm: 30% Off Everything in the store! One Hour Only!
12:30-1:30: Larry Hama & Evan Dorkin Signing
2:00-3:00: Trivia Contest
3:30-4:30: Rebekah Isaacs & Amy Reeder Signing
5:00-6:00: Costume Contest
6:30-7:30: MC Chris Signing
Midtown Comics Downtown
64 Fulton Street, New York, NY