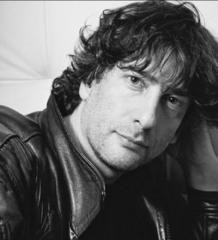 Neil Gaiman and Patton Oswalt appear on Tuesday, June 28th at 8pm (Doors at 7:00pm).
New York Times bestselling author, Neil Gaiman, discusses American Gods: The Tenth Anniversary Edition with comedian Patton Oswalt at the historic Saban Theatre in Beverly Hills.
First published in 2001, American Gods became an instant classic—an intellectual and artistic benchmark from the multiple-award-winning master of innovative fiction, Neil Gaiman. Now discover the mystery and magic of American Gods in this tenth anniversary edition. Newly updated and expanded with the author's preferred text, this commemorative volume is a true celebration of a modern masterpiece by the one, the only, Neil Gaiman.
CLICK HERE FOR TICKETS: $15 without book; $35 with book*
*Note: Mr. Gaiman will only be pre-signing books for ticket buyers who have ordered Admission w/ Book in advance. If you would like a signed copy of American Gods: The Tenth Anniversary Edition from this event, it's imperative that you order accordingly now as there will not be an opportunity after the event to get additional books signed.
**All tickets and books will be available for pickup at Saban Theatre Will Call night of show. No physical tickets will be mailed for this event.
Bestselling author Neil Gaiman has long been one of the top writers in modern comics, as well as writing books for readers of all ages. He is listed in the Dictionary of Literary Biography as one of the top ten living post-modern writers, and is a prolific creator of works of prose, poetry, film, journalism, comics, song lyrics, and drama.
His New York Times bestselling 2001 novel for adults, American Gods, was awarded the Hugo, Nebula, Bram Stoker, SFX, and Locus awards, was nominated for many other awards, including the World Fantasy Award and the Minnesota Book Award, and appeared on many best-of-year lists.
Saban Theatre
8440 Wilshire Blvd, Beverly Hills, CA 90210